technology
Uber Rival Hiring in Mexico as Didi Seeks Latin American Ramp Up
By , , and
Operations could start by June in first move out of Brazil

Company hiring for roles in operations, business intelligence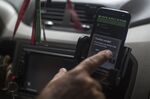 Brazil's ride-hailing app 99 is gearing up to start operations in Mexico, expanding outside of its home market for the first time.
"We've started to look at Mexico, study it, but we're not operational yet," 99's head of legal, policy and communication Matheus Moraes said in an interview at the company's Sao Paulo headquarters. "We have people and spots open there, we're just making sure the product works well before launching."
The company could be up and running in Mexico by June, Moraes said.
The move comes as Didi Chuxing, which bought 99 in January, battles with Uber Technologies Inc. for space in Latin America. The acquisition put the companies in direct competition in one of Uber's busiest markets, and where it had doubled down after Didi drove it out of China. Uber declined to comment.
Beijing-based Didi has advertised on LinkedIn for at least three jobs, two of which are based in the Mexico City area and another in Guadalajara, postings on the social network show. The roles are in operations and business intelligence.
99, which last year embarked on a massive hiring spree in Brazil, declined to provide details about its staffing in Mexico. Moraes said the company's current plans are limited to the two Latin American nations.
Didi bought 99, Brazil's biggest taxi-beckoning tech company, for undisclosed terms after leading a $100 million investment in the company last year. Didi raised $5.5 billion last April in a deal that made it the most valuable startup in China, aimed at giving it sufficient capital to pursue an ambitious agenda around the world. The Chinese company was said to raise $4 billion from Softbank Group Inc. in December to fund expansion, giving it a valuation of about $56 billion, people familiar said.
Didi is the second-most highly valued, venture-backed private firm in the world, after Uber.
(
Updates with Uber comment in fourth paragraph.
)
Before it's here, it's on the Bloomberg Terminal.
LEARN MORE