business
Cisneros Suspends Miss Venezuela Pageant After Corruption Scandal
By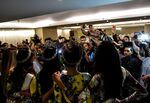 The organization behind Miss Venezuela's iconic beauty pageant is closing its doors and suspending all castings while it carries out an internal investigation following claims of prostitution and corruption throughout the organization.
In what's been two weeks of social media mudslinging, participants in the Miss Venezuela pageant have been accused--or even accused each other--of receiving anything from cars to trips from government officials in exchange for sexual favors and of pocketing money meant for a charitable children's foundation.
"Venezuelans can be sure that the organization will not hesitate to take the necessary measures that make sure no acts against our rules, values and ethical and moral principles are taken," Cisneros Media President Jonathan Blum said in an statement on the organization's website.
Cisneros Group owns Venezuela's top-rated television channel Venevision, the Miss Venezuela beauty pageant and a company that produces thousands of hours of high-definition soap operas for partners including Univision, the biggest Spanish-language channel in the U.S. Among future measures, the organization will create a new "Beauty Committee" and carry out a full pageant reorganization, the statement said.
Before it's here, it's on the Bloomberg Terminal.
LEARN MORE