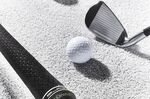 The Characteristics
Swing-tracking technology is a fast-growing segment of the golf-gear market, and Arccos Golf LLC, founded in 2012, has been on the forefront. Its GPS-based Arccos 360 system comes with 14 disc-like sensors that screw into the top of each club and then pair to your phone via Bluetooth. The app outlines a course map and provides a digital scorecard through the round. It details how far you're hitting each shot and gives a color-coded breakdown—in real time—that pinpoints whether your driver or your pitching wedge was most responsible for that double bogey.
The Competition
At $279, the Arccos 360 + Caddie bundle is an expensive swing tracker. Game Golf Live's shot-tracking system, at $150, offers similar functionality, but it comes with a beeper-like contraption that attaches to your belt. Before each swing, you have to tap the device with the club and wait for a tone before continuing. The Golf Zepp 2 with 3D swing analysis, also $150, is less invasive: Its sensor attaches to the outside of your glove. But some golfers don't like the feel of a gadget on their hand while playing.
The Case
As with any new technology, the Arccos 360 isn't perfect: Shots can accidentally register if you drop your club or take too many practice swings. But given the wealth of data, the interface is easy to follow. Paired with the Arccos Caddie, it offers personalized and course-specific strategies powered by artificial intelligence and more than 100 million shots hit by the Arccos community. Its built-in range finder provides a clear path to the pin, even when you can't see it, and makes club recommendations based on temperature, wind, topography, and distance to the hole. $279; arccosgolf.com
Before it's here, it's on the Bloomberg Terminal.
LEARN MORE