Business
Ryanair's Global Pitch to Pilots: Job Stability, but No Free Coffee
The budget airline is grappling with an urgent shortage in Europe.
By and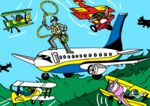 Even by the hard-nosed standards of budget airlines, Ryanair Holdings Plc is notoriously tough on its staff. The carrier's chief executive once referred to his pilots as "glorified taxi drivers," and he makes them shell out for the coffee they drink in the cockpit. They endure a tight schedule of up to a half-dozen flights per day, with a goal of unloading passengers and getting the next bunch seated and ready to take off in just 25 minutes. Many pilots work for subcontractors that require them to pay for their uniforms and even training courses. Job-rating website Glassdoor.com gives Ryanair the lowest score among Europe's 10 biggest carriers. So what does an airline with that kind of reputation do when it needs new pilots? It seeks candidates from places that seem even less attractive. 
In its quest for talent, Ryanair has dispatched recruiters to Africa, Latin America, and the Middle East—areas where embattled airlines are cutting costs and dismissing experienced aviators. Over the past year, Ryanair has held information sessions in Cape Town, Abu Dhabi, Rio de Janeiro, and beyond, with an eye toward hiring disgruntled pilots from South African Airways, Etihad Airways, and carriers in Brazil. It's hoping people at airlines that have gone through restructurings will be worried enough to bail out—if they haven't lost their jobs already. "There's a shortage of engineers and pilots all over Europe," says Ryanair Chief Executive Officer Michael O'Leary. "It's a question of casting the net wide."
On an overcast February morning, about 50 pilots and more than 100 engineers stopped by the Lakeview, a small hotel 20 minutes by car from SAA's hub at O.R. Tambo International Airport outside Johannesburg. Ryanair had laid out a spread including ham-and-cheese croissants, a fruit platter, and coffee (in this instance, it was free). Attendees sat through a brief presentation on "Great Reasons to Work at Ryanair," which cited earnings potential, pension benefits, and time off. A recruiter later fielded questions about family benefits, training, and visas, noting that the airline will only hire pilots who have European passports.

For this group, Ryanair's most attractive perk is probably job stability. SAA hasn't made a profit since 2011, and over the past year it's dropped at least two international routes, reduced flights on others, and received a government bailout. Ryanair, by contrast, hires about 1,000 pilots annually and this year plans to add 50 planes to its fleet of 430 jets. It's expected to boost pretax profit to €1.6 billion (about $2 billion) for fiscal 2018 and predicts it will carry 200 million passengers annually by 2024, up from 130 million last year. "It looks like the company is much stronger than where I am currently," SAA maintenance engineer Francois Nortje says while smoking a cigarette outside the hotel. "There's a lot more airplanes to maintain."
The downside for South Africans is that while starting salaries at the two carriers are about the same, Ryanair pays its most senior pilots one-third less than SAA (though Ryanair doesn't fly the widebody jets that net pilots the highest salaries, and the company says an allowance of €6,000 per year covers expenses such as uniforms, snacks and, yes, coffee). Ryanair jobs also require relocating to one of the carrier's 80-plus hubs such as London, Stockholm, or Berlin, where the cost of living can be far higher than in Johannesburg. "Lifestyle-wise we really can't complain about the money we get, but it's just the uncertainty," says Peter Ladiellis, a pilot with South African Express Airways, a low-cost SAA affiliate. That said, he's leaning against a move. "We live in big houses in South Africa, not matchboxes," Ladiellis says. Comparing "the salary that you're going to get there and the salary that you get here, what will be left in your pocket won't be much."
Another concern for recruits is turmoil among Ryanair crews. In September, the discounter canceled more than 20,000 flights  after it botched holiday schedules and was left without sufficient staff to man its aircraft. The snafu gave pilots the leverage to push for unionization, which O'Leary accepted after years of opposition. The carrier this winter recognized unions in the U.K. and Italy, and since the scheduling crisis it has increased new pilots' pay by 20 percent. Nonetheless, O'Leary has warned investors to expect more labor unrest as it moves into its summer schedule.
Those issues haven't hurt overseas recruitment, O'Leary says, with 50 pilots from Brazil signing up. In South Africa he has mostly found engineers, though some pilots are also interested. In the Persian Gulf, Emirates has been cutting jobs as oil prices have fallen, and Abu Dhabi carrier Etihad is reportedly mulling plans to lay off hundreds of pilots after losing $1.9 billion in 2016. "There are a lot of pilots coming back, from Etihad especially," O'Leary says. For European citizens, he says, his offer of postings in any of dozens of countries "is a reasonably easy sales job."
Before it's here, it's on the Bloomberg Terminal.
LEARN MORE