Economics
The New Head of China's Money Machine Faces a Delicate Balancing Act
Yi Gang will have less of a free hand than his mentor and predecessor.
By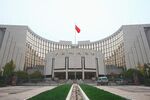 China's new central bank governor, Yi Gang, inherits a powerful money machine and a vast policy portfolio. Yet the People's Bank of China is only part of an apparatus that ultimately answers to just one man: President Xi Jinping. Interest rate and financial regulatory calls need approval from Chinese officialdom, a reality that makes the PBOC far different from the more politically independent U.S. Federal Reserve and European Central Bank.
With an implicit mandate to do whatever furthers China's economic agenda at home and abroad, the PBOC is an institution with awesome firepower. Its $5.7 trillion in financial assets give it the biggest balance sheet among major global central banks—a product of years of trade surpluses and capital inflows. "It certainly plays a large external role for China, and more explicitly than any other major central bank," says Alex Wolf, senior emerging-markets economist at Aberdeen Standard Investments in Hong Kong, who previously worked at the U.S. State Department. He says the PBOC has clear responsibility for areas stretching from domestic economic reform and interest rates to bigger geostrategic ambitions such as increasing usage of China's currency, the yuan, around the world.

Under outgoing governor Zhou Xiaochuan, a key architect of China's modern financial system who held his post for 15 years, the PBOC has emerged as a powerful force in the global debt markets. China owns about $1.2 trillion in U.S. Treasury bonds, making it the biggest foreign holder, ahead of Japan. That's potential leverage in any major trade conflict with President Donald Trump.
The central bank plays a role supporting Xi's signature "One Belt, One Road" infrastructure initiative aimed at deepening China's trade and economic links with much of Asia, Europe, the Middle East, and Africa. The PBOC also assists the $2.3 trillion China Development Bank, whose balance sheet far exceeds that of the World Bank's flagship fund. This financial support allows China to project its power abroad at a time when the U.S. is retreating from global engagement. "The PBOC's major policymaking does have a profound, widespread influence on the global economy," says Alex He, a research fellow at the Centre for International Governance Innovation in Ontario, Canada. 
Yi, who has a doctorate in economics from the University of Illinois, is a seasoned financial policymaker, having served as Zhou's No. 2 and China's top currency regulator. He's seen as a reliable pair of hands to continue Xi's drive to reduce systemic risks and clean up the country's debt-burdened financial and corporate sectors without derailing an economy that's heading toward a debt-to-output ratio exceeding 300 percent, according to Bloomberg Economics.
While Yi's succession is like-for-like from a policy perspective, his lower ranking in the Communist Party pecking order means the new central bank chief arrives without some of the political heft Zhou brought to the role. Liu He, Xi's top economic adviser, has been promoted to the post of vice premier, overseeing financial and industrial policy. "Liu He will be his boss, Xi Jinping will be Liu He's boss, and everything will be run from the top," says Leland Miller, president of economic research company China Beige Book International in New York.

The new governor takes over soon after China's legislature voted to repeal presidential term limits, allowing Xi to keep power indefinitely and consolidating his grip on all aspects of policy, including managing the economy. Yi at least will have a more muscular institution to steer after Xi's government recently announced plans to merge the country's bank and insurance regulatory agencies. Some of their functions, including drafting key regulations and prudential oversight, will move to the PBOC. That ought to make the central bank the most powerful voice in a new Financial Stability and Development Committee created by Xi.
Even if it has to answer to top leadership, the PBOC remains paramount among economic government bodies and has long attracted first-rate economists. It also has the tools to intervene directly in the economy in ways that other central banks don't, such as channeling cash to chosen banks or funding the redevelopment of shanty towns. "Unlike other central banks that are independent from government and have narrow economic mandates, the People's Bank is an agency of the central government with a broad range of responsibilities," wrote Chen Long, a Beijing-based economist at the financial-services company Gavekal, in a note to clients.
Its decisions matter beyond China's borders, too, given that China's $12 trillion economy was responsible for about a third of global growth last year, according to the International Monetary Fund. If Yi slows the pace of credit growth too quickly, the effects will be felt worldwide. "Like Ben Bernanke when he took Alan Greenspan's hot seat at the Federal Reserve, Yi has some big shoes to fill," Bloomberg economists led by Tom Orlik wrote in a note. "On Zhou's watch, a credit bubble of epic proportions expanded. Now it's up to Yi to manage it down."
Yi is expected to carry on with his predecessor's efforts to expand the institution's global footprint. Under Zhou, the PBOC, which controls a $3 trillion foreign reserve stockpile, set up currency swaps arrangements with dozens of central banks. Once considered exclusively a tool of Western central banks, the swaps exist to grease the wheels of trade and to supply emergency cash in the event of a global funding crunch. 
Though the yuan isn't likely to dethrone the U.S. dollar anytime soon, it is making advances. In 2015 the Chinese currency was selected to join the dollar, euro, yen, and British pound in the IMF's elite club of international reserve currencies. However, China's ambitions for the yuan have taken a back seat since a botched move toward greater currency flexibility spurred an outpouring of capital. In August 2015, as the government intervened aggressively to halt a rout on the Shanghai and Shenzhen stock exchanges, the central bank abruptly changed how the yuan traded day-to-day against the dollar, sending tremors through world markets. The disruption was cited by the Fed as one reason it delayed a widely anticipated interest rate increase the following month.
It may take Yi time to establish the same kind of influence within China's power structure that Zhou, a protégé of former reformist Premier Zhu Rongji, accumulated over the years. Abroad, he starts with an advantage: As a fluent English-speaker well-known in central bank circles, Yi will play an important role representing Chinese policy to foreign governments. "The PBOC for a decade has been the backbone of China's financial regulatory system," says Andrew Collier, an independent analyst in Hong Kong and former president of Bank of China International USA. "It has also played a role as the honest broker between China and the rest of the world's economies."
While the PBOC does take orders from the party hierarchy, that's not to say it hasn't been an advocate for key financial reforms. Zhou championed ending the yuan's peg to the dollar in 2005, started liberalizing interest rates, and called for China to move toward a freer-floating exchange rate. And Yi wants to cast himself in that mold. "The main task is that we should implement prudent monetary policy, push forward the reform and opening-up of the financial sector, and maintain the stability of the entire financial sector," he told reporters gathered at Beijing's Great Hall of the People following his appointment on March 19.
One reform that's not on the table: central bank independence. "The increasing complexity of the Chinese economy and financial system gives the Chinese central bank unique influence on the thinking of the top leadership," says Pauline Loong, managing director at researcher Asia-Analytica in Hong Kong. "After all, it is the institution with real-time information on what's happening in the economy and its financial institutions. But ultimately, it serves the Party's goals."

—With assistance from James Mayger and Yinan Zhao
Before it's here, it's on the Bloomberg Terminal.
LEARN MORE