politics
Italian President Is Ready to Allow Months for Coalition Talks, Official Says
By and
Head of state wants to let the dust settle after campaign

Parliament reconvenes March 23 to elect two speakers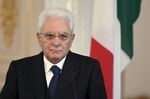 President Sergio Mattarella is ready to allow time for passions to cool after Italy's acrimonious election campaign and will give political leaders until July to break their deadlock, according to a senior state official.
If no working majority can be pieced together from the fragmented parliament elected March 4, Mattarella could trigger another election for the fall, said the official, who was hopeful that a government would be formed.
The official said that Mattarella is keen to ensure that the 2019 budget is approved in the fall and will therefore seek to avoid an election at that time to avoid undermining public finances if the spending plans aren't voted on by parliament.
Luigi Di Maio of the anti-establishment Five Star Movement and Matteo Salvini of the League have made rival claims to govern, but neither has a parliamentary majority and both are trying to contain tensions within their groups over the best path to choose.
Parliament reconvenes Friday with the election of speakers for both chambers at the top of the agenda.
Starting Talks
Mattarella, 76, a former minister and constitutional judge, will start talks with political leaders in early April and he may need more than one round of consultations before deciding who to nominate to lead the next government. He could also ask one of the new parliamentary speakers to take soundings on whether a majority is possible.

Investors are concerned that Di Maio and Salvini could end up joining forces to exclude mainstream parties from government entirely. In that scenario, the head of state could use his advisory powers to press them to manage state finances responsibly and honor Italy's European commitments, the official said.
Read More: Four Scenarios Offering Escape From Italy's Political Gridlock
Still, the official said that such a result is unlikely because of the differences between the two parties -- Five Star has its base in the depressed south of Italy and wants a universal basic income, while the League is rooted in the rich, industrial north and is pushing for a flat tax.

What's more, the League's Salvini has said he would only join up with Five Star with the blessing of his coalition partner Silvio Berlusconi who is pushing for an alliance with the center-left Democratic Party of premier Paolo Gentiloni.
Di Maio, who unveiled a list of ministers even before the election, signaled Monday that he may now be open to sharing out jobs. "We talk about ministers with the president, and about measures with political parties," Di Maio told a closed-door meeting of Five Star senators, according to newswire Ansa. Mattarella formally approves ministerial appointees.
As talks drag on, Mattarella may appeal to all parties to form a government that can at least push through the 2019 budget and change the electoral system to give the winners a better chance of forming a majority. The Democratic Party, which has said it will go into opposition after its worst-ever result, could help to form such an administration, the official said.
(
Updates with details starting in fourth paragraph.
)
Before it's here, it's on the Bloomberg Terminal.
LEARN MORE