business
Cohen Scrutinizes Culture at Point72 After Haynes's Departure
By and
Haynes left after a lawsuit was filed alleging discrimination

Cohen had ordered up an independent review of firm's culture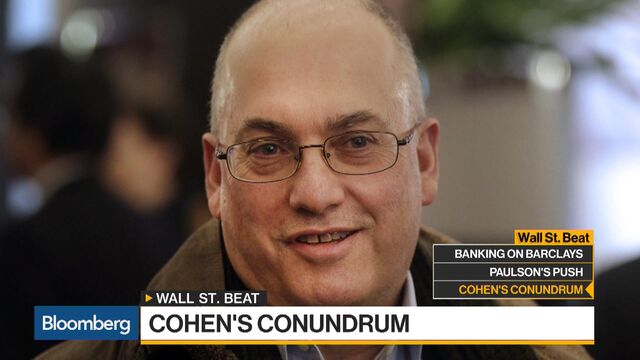 Four years ago, billionaire Steve Cohen turned to former McKinsey & Co. consultant Doug Haynes to clean up a firm that had just pleaded guilty to securities fraud and paid a record fine. On Friday, Haynes resigned from the hedge fund, leaving in his wake another set of problems.
Under Haynes, Point72 Asset Management beefed up oversight, adding a 50-person compliance team housed on the trading floor that monitors emails and phone calls. He set up a program to hire young people out of school and train them in money management. He prepped the firm to raise billions of dollars once a two-year ban to manage outside capital was lifted at the beginning of the year.
Yet Haynes is also accused of running the $11 billion firm as a "boys' club" where women were discriminated against and paid less than their male counterparts, according to former employees and a lawsuit filed last month against Point72, Haynes and Cohen. Point72 has denied the claims.
Haynes, 52, also added layers of bureaucracy and angered money managers who felt that the former consultant didn't understand markets and made it hard for them to do their jobs, the people said. He left the firm in the midst of an ongoing review of Point72's culture ordered up a month ago by its founder. Now the hedge fund is under the sole leadership of Cohen, 61, who will temporarily take the job of president until a replacement is hired.
'Natural Point'
Haynes' departure from Point72 comes just two months after Cohen opened his doors again to outside investors, raising $3 billion, according to a memo Cohen sent to employees Friday that was seen by Bloomberg. Cohen, who thanked Haynes for his service in the note, also said that the transition from a family office "is a natural point to make way for a new, different type of leader."
Cohen's old hedge fund, SAC Capital Advisors, agreed in 2013 to pay a $1.8 billion fine to U.S. authorities, and he returned client money as part of that settlement. He changed the firm's name to Point72 and brought on Haynes, first as managing director of human capital and then president.
"Steve hired me over four years ago to join him in shaping and leading a profound transformation for his firm," Haynes said in an emailed statement Sunday, adding that his era concluded with the firm again raising money from outsiders after a five-year hiatus. "Both the changes we made and this initial raise exceeded our expectations. The firm is ready to take its next leap forward." He didn't return an email seeking further comment on his actions at the firm.
Haynes, who was known to sport cuff links with the Point72 logo, transformed the firm in some unexpected ways, according to former employees and the lawsuit by Lauren Bonner, an associate director.
'Dumb Blonde'
Bonner's suit accused Haynes of having the word "pussy" scrawled on a white board in his office and leaving it there for weeks, and calling one female executive a "dumb blonde" and routinely disparaging her weight. The suit, filed in federal court in New York in February, also alleged that the firm paid women less money than male counterparts doing similar jobs. In addition to denying the claims, Point72 asked a judge to seal her complaint and force it to be heard in arbitration.
Cohen's email to staff didn't reference the lawsuit.
Yet the complaint pushed Cohen to explore just how much the firm had changed. On Feb. 14, just two days after the suit was filed, he hired law firm WilmerHale to conduct an independent assessment of Point72 to help improve its policies and procedures, strengthen its culture and foster best practices, according to a statement Saturday by the hedge fund.
"Steve Cohen wants to make sure that his firm is living up to its stated values and fostering a respectful workplace," the statement read, adding that employees have been invited to speak to the WilmerHale attorney on a confidential basis. That lawyer, Jamie Gorelick, will report back to Cohen with her observations and advice.
A Point72 representative also said positive results from its "outreach to a diverse and promising group of candidates" through its initiatives, including its program to hire people straight out of university, "speak for themselves."
Former employees have said that under Haynes, Point72 grew top-heavy with executives, many of them former consultants and other business leaders with no money-management experience. While hedge funds tend to hire from banks or other money managers for even non-investment positions because of their similar cultures, Point72 under Haynes turned to corporate America when hiring some senior executives.
Michael Butler, the head of human capital, came from Ensign-Bickford Industries, whose subsidiaries are involved in everything from defense contracting to making pet food tastier. Tim Shaughnessy, the firm's chief operating officer, previously worked at IBM.
Haynes instituted a cookie-cutter approach to managing money, the people said, imposing rules on traders that restricted their ability to make more money by requiring them to be more hedged and not allowing them enough leeway in how they managed their portfolios.
Other Departures
Many of the biggest money-makers and other senior employees left the firm when it was a family office. Since the middle of last year, the departures have included Chris Corrado, chief technology officer; Phil Villhauer, head of global trading; Suzette Williams, a senior trader; Michael Zea, chief of strategy; Seetharam Gorre, chief information officer; Marc Greenberg, director of research; and portfolio manager Qaisar Hasan.
Marketers speculated last year that Cohen's next act as a hedge fund could raise $10 billion for the relaunch. Cohen said in Friday's memo that the $3 billion brought in exceeded the firm's expectations, calling it "the most successful external long/short equity fund raise since 2011."
The money-raising isn't over, according to Friday's memo. Cohen said that Perry Boyle, who had been tapped as investment chief for the new hedge fund, would continue in an investor relations role "as we complete the raise."
Boyle, who'd previously run equities for Point72, will also resume his position overseeing stocks for the firm, the memo said, a sign that Cohen is resetting the firm with a focus toward money managers.
"We are poised for even greater success going forward," Cohen said in the note.
— With assistance by Vincent Bielski
(
Adds details on Point72 hiring under Haynes starting in 14th paragraph.
)
Before it's here, it's on the Bloomberg Terminal.
LEARN MORE