technology
U.K. Alleges Facebook-Linked Data Firm CEO Made False Statements
By
House of Commons committee to recall Cambridge Analytica CEO

Alexander Nix's comments contradict weekend newspaper reports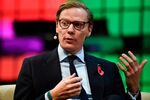 The head of a data company accused of improperly using information from Facebook Inc. profiles during Donald Trump's presidential campaign deliberately misled U.K. lawmakers in testimony last month, the panel's chairman said Sunday.
Alexander Nix, chief executive officer of London-based Cambridge Analytica, told a House of Commons committee that his company didn't receive data from Global Science Research Co. That contradicts newspaper reports that it did receive the information and used it to reach U.S. voters with hyper-targeted messaging.
Damian Collins, chair of the U.K. Digital, Culture, Media and Sport Committee, said he will ask Nix to explain his comments and answer further questions about the company's connections to the Facebook data. He also plans to ask Facebook CEO Mark Zuckerberg to have a senior executive of the social networking giant answer the panel's questions.
"We have repeatedly asked Facebook about how companies acquire and hold on to user data from their site, and in particular whether data had been taken from people without their consent," Collins said in a statement. "Their answers have consistently understated this risk, and have also been misleading to the committee."
Cambridge Analytica and parent Strategic Communication Laboratories have been suspended from Facebook, "pending further information," the Menlo Park, California-based company said in a blog post Friday. Cambridge Analytica said in a Saturday statement it did nothing illegal and is ​in touch with Facebook in order to resolve the matter as quickly as possible.
The data firm was hired to help with voter outreach by the Trump campaign, whose former campaign manager, Steve Bannon, had been on the company's board. According to the New York Times, it harvested private information from the Facebook profiles of more than 50 million users without permission, which allowed it to exploit the private social-media activity of these users in support of the Trump campaign.
In a story Sunday, Christopher Wylie, a 28-year-old former Cambridge Analytica employee, told the Guardian he helped orchestrate the operation. He said Cambridge Analytica hired the Global Science Research to help it mine and process "Facebook data, so that it could be matched to personality traits and voter rolls."
Nix told Collins on Feb. 27 none of Cambridge Analytica's data came from GSR and they once had a contract with the company that proved "fruitless."
Before it's here, it's on the Bloomberg Terminal.
LEARN MORE