politics
Facebook Post Pushes Norway Government to Brink of Collapse
By and
Christian Democrats meet to decide on justice minister vote

Opposition pursuing no-confidence vote against minister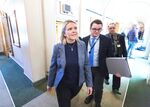 Norway's minority government faces a potential collapse as the opposition seeks the ouster of the polarizing, anti-immigration Justice Minister Sylvi Listhaug.
Prime Minister Erna Solberg is bracing for turmoil as the Christian Democrats meet to decide whether to back and provide a majority for the center-left's no-confidence motion against the minister. A vote to censure could force the premier to put her whole cabinet to a vote, just six months after securing her reelection.
After losing a proposal in parliament that would make it easier to strip suspected terrorists of their citizenship, Listhaug incensed the opposition by saying on Facebook that the Labor Party -- whose youth camp was targeted by Anders Behring Breivik in the 2011 terrorist attack -- cares more about the rights of terrorists than national security.
Read more on Norway's recent election
While she has since reluctantly apologized, and also after almost a week took down the March 9 post, the minister faces a no-confidence vote in parliament on Tuesday. The Christian Democrats have scheduled a meeting at noon on Monday to decide on whether they will back her ouster.
"This is a very demanding and serious matter, which we will have to discuss thoroughly before we decide," Knut Arild Hareide, the head of the Christian Democrats, said on Friday.
The government would resign if the Christian Democrats back the no-confidence vote, newspaper VG reported on Sunday, citing a "central source." That puts the the party in a bind, since it has long been open about its dislike of Listhaug, but has backed Solberg as prime minister since 2013.
Flower Support
Listhaug has a power-base within the anti-immigration wing of her Progress Party, which is led by Finance Minister Siv Jensen. The 40-year-old Listhaug has in the past called political correctness on immigration a "tyranny of good" and has posted a picture on Facebook of an immigrant being expelled from Norway encouraging followers to "like and share!"
Her backers showed their support on Friday, flooding the Justice Ministry with flowers. A poll released on Friday for newspaper VG showed growing support for the Progress Party, its backing rising 2.8 percentage point to 15.9 percent. Jensen also said over the weekend that she had full confidence in Listhaug.
She has also crossed swords personally with Hareide, who now could hold her fate in his hands. In a debate about religious extremism last year, she said he and other politicians are guilty of "licking Imams up the back."
Solberg has already apologized for Listhaug's March 9 comment on behalf of the government. But it could be until Tuesday until it's revealed how the premier will deal with a no-confidence vote. "The question on how the government will handle a no-confidence vote will only be answered in parliament," Solberg told news agency NTB.
Recent polls have shown a growing popularity for the prime minister, with backing for her Conservative Party rising to 28 percent from the 25 percent in the election, according to website pollofpolls. Labor, which has been partially engulfed by a #Metoo scandal, has lost backing and hovers at just below 24 percent.
"It's absurd," said Johan Giertsen, a law professor at the University of Bergen and a Conservative who runs the pollofpolls website. "Other countries are struggling with unemployment, immigration, a growing underclass and in Norway the problem is a Facebook post that has been taken down and apologized for."
Beyond Limits
Listhaug lashed out on Facebook after a majority in parliament, including Labor, defeated a government proposal to strip potential terrorists of their citizenship without a court order.
The no-confidence motion was brought by one of parliament's smallest parties, the Red party, and was then backed by Labor and the others.
"The parliamentary majority can't accept a Justice Minister who claims that we put terrorists' rights above the nation's security," Red Party leader Bjornar Moxnes said on Twitter. "It quite simply goes beyond the limits of what a government minister can do."
Labor Party leader, Jonas Gahr Store said on Saturday to broadcaster NRK that it would be acceptable if Listhaug was given another ministry to run. The plan was rejected by the Progress Party, which is also holding a meeting on Monday.
Before it's here, it's on the Bloomberg Terminal.
LEARN MORE