'Black Panther' Beats Tomb Raider Rehash for 5th Box Office Win
By
It's the longest streak at No. 1 since 'Avatar' in 2010

Time Warner's new release, 'Tomb Raider,' placed second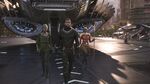 "Black Panther," Walt Disney Co.'s new superhero hit, stole the show for a fifth-straight weekend, beating a lackluster "Tomb Raider" reboot by Time Warner Inc.'s Warner Bros.
The African superhero movie collected $26.7 million last weekend in North American theaters, researcher ComScore Inc. said Monday. That makes the picture the first to lead the domestic box office for five straight weeks since "Avatar" went on to hold the crown for seven weeks in 2010. "Tomb Raider," with Alicia Vikander taking the role made famous by Angelina Jolie, placed second with $23.6 million, ahead of three other new wide releases.
"Black Panther" continues to buoy theaters at home and abroad. In recent days, the film has risen to No. 16 in all-time sales, passing "The Lord of the Rings: Return of the King" and "Transformers: Dark of the Moon." Its cumulative sales in North America climbed to $605 million, according to ComScore, making it only the seventh movie to top $600 million.

Internationally, "Black Panther" took in $30 million this weekend, bringing its global revenue to $1.18 billion, ComScore said.
With "Tomb Raider," critics were split over Vikander's reprisal of the video-game icon, with only 38 percent of top reviewers having positive comments, according to aggregator RottenTomatoes.com The movie, which cost $94 million to make, was expected to earn $24.8 million on its first weekend, according to analysts at Box Office Mojo.
In Warner Bros.' resuscitation of the franchise Lara Croft, Vikander stars as the daughter of an eccentric adventurer and has set out to solve the mystery of his disappearance. The film was made in partnership with Metro-Goldwyn-Mayer Inc. While the movie met Warner's expectations, it's unlikely to yield a sequel.
Three other new releases vied for moviegoers' attention. Roadside Attractions, which is partly owned by Lions Gate Entertainment, released "I Can Only Imagine," a family film about the Christian band MercyMe. It placed third with $17.1 million, beating Box Office Mojo's forecast of $6 million.

"Love, Simon," a coming-of-age tale about a young gay man, placed fifth with $11.8 million in sales for 21st Century Fox Inc.'s film division. That missed the forecast of $14.3 million from Box Office Pro.
"7 Days in Entebbe," from Comcast Corp.'s Universal Pictures and Focus Features, didn't crack ComScore's top 10 list.

Quotes from this Article
Before it's here, it's on the Bloomberg Terminal.
LEARN MORE