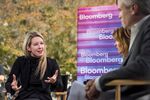 Theranos has been a big embarrassment for the world of private health-care investment. It deepened on Wednesday, when the SEC detailed what it called "massive fraud" committed by the company, its CEO Elizabeth Holmes and former President Ramesh Balwani.
You might think Theranos's very public collapse, which began in late 2015, might have cooled private investment in new biotechnology firms 1 . Far from it. Private biotechs raised nearly $9 billion last year, a record, and have already raised nearly $3 billion in just the first two months of 2018, according to data from Pitchbook, which tracks such deals.
Fortunately, Theranos is an outlier. But it should also be a cautionary tale for investors. 
First and foremost, the sheer extent and audacity of the fraud perpetrated by Theranos's leaders separates it from the pack. According to the SEC complaint, the blood-testing company misled investors about its financials; what its proprietary technology could do (not much); the number of tests it outsourced to other companies (most of them); and the extent and status of its relationships with pharma companies, the Department of Defense, and Walgreens Boots Alliance Inc. 
The $700 million Theranos raised, its sources, and the competence of its oversight are also not normal. Only one private U.S. venture-capital-backed biotech -- Samumed -- is worth more than the $9 billion Theranos hit at its peak. Big names such as Rupert Murdoch put a lot of cash into Theranos. But it got little love from life-sciences-focused VCs, blue-chip Silicon Valley VCs, or firms with specific scientific expertise. The board was heavy on former U.S. Secretaries of State but bare of relevant scientific expertise.
So Theranos was the extreme. But even if there are no other companies quite like it right now, there are still worrying trends in the space.
Lab tests of the type Theranos tried to create exist in a regulatory gray area -- they aren't subject to the same clinical trial requirements or stringent FDA scrutiny that drugs are. Of course, Theranos misled investors about its status even within that looser framework, according to the SEC. But the muddy waters in which it operated helped it raise a lot of money without actually delivering on its promises or disclosing how its products worked.  
And some of the most valuable private biotech companies today have a lot of non-specialist investors, as Theranos did. Tencent Holdings and Amazon.com Inc. contributed to the largest recent biotech fundraising round, for cancer blood-test researcher Grail. Hedge fund Viking Global, the Abu Dhabi Investment Authority and Fidelity participated in a $500 million investment in biotech unicorn Moderna Therapeutics. Traditional tech investors are increasingly getting involved in early stage biotech bets as well. 
This influx of new money is contributing to ever-larger fundraising rounds. While the recipients generally have superior pedigrees to Theranos, this does create issues. Big investments beget other FOMO 2 -related big investments. They inflate valuations and expectations, generate me-too efforts and groupthink, and make for tougher exits. Last year had the largest average private biotech investments since at least 2008, according to Pitchbook, and 2018's deals are even bigger so far. 
If the money flowing into early stage life-science ventures keeps growing at this rate, there will be consequences. Investing in biotech is hard even when there isn't massive fraud afoot; treatments and technologies fail constantly, most often in the early stages where private companies focus. Investors are likely to get burned on a larger scale than we've seen previously as they put more money into inherently risky ventures.
Theranos isn't a traditional biotech company, but it's certainly adjacent, and Pitchbook's numbers include firms such as consumer DNA-testing company Helix and cancer blood-test developer Grail.
Before it's here, it's on the Bloomberg Terminal.
LEARN MORE