politics
Pennsylvania Offers Democrats Road Map to Win in Trump Country
By
Democrat Lamb's strong result illustrates Republican peril

Contest held in House district Trump won by 20 points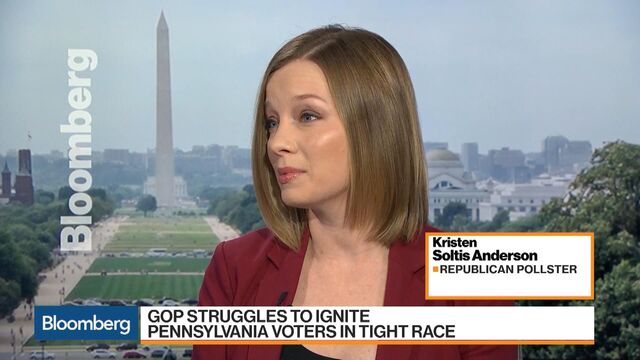 Democrat Conor Lamb's strong showing in the race for a Pennsylvania congressional district won easily by President Donald Trump in 2016 gives the party a template for taking Republican seats in November and possibly control of the U.S. House.
With absentee and provisional votes still being tallied, the outcome of Tuesday's special election was still too close to call as of Wednesday. Lamb leads by 627 votes out of more than 228,000 cast and has declared victory. The New York Times declared Lamb the winner, saying his lead appears to be insurmountable based on the number outstanding votes. But his GOP opponent, Rick Saccone, hasn't conceded and Republicans say they'll challenge the results.
No matter the outcome, Lamb's performance in a region where Democrats didn't even field a candidate in the last two congressional elections provides the latest evidence that the party has a motivated base of voters going into the fall midterm election campaign. It follows a victory in a special Senate election late last year in solidly Republican Alabama, as well as wins in Virginia, New Jersey and a handful of state races elsewhere.
"It's yet another sign that the headwinds Republicans face may reach gale force," said Doug Heye, a Republican strategist and former spokesman for the Republican National Committee.
Big Investment
Republicans invested heavily in the race for a seat that shouldn't have been competitive. The president made a stop there on March 10 to rally voters, his second visit to the area. Donald Trump Jr., and Vice President Mike Pence also campaigned on Saccone's behalf, while GOP and conservative groups spent more than $10 million to bolster the Republican's campaign.
Although the outcome of the election isn't settled, the one clear loser after Tuesday's vote is Trump. If he can't deliver a Republican win in a place like Pennsylvania's 18th Congressional District, where he prevailed by 20 percentage points in 2016, he may struggle to do much for his party beyond fundraising.
"There is a very real problem facing Republicans in the months ahead and that problem is Donald Trump's approval rating," Heye said.
In the 2010 midterms, Heye said the Republican National Committee felt confident that if then-President Barack Obama's approval rating was below 46 percent Republicans would take back the House. He was for that election and they did. Trump's approval rating has been stuck at 40 percent or lower in most polls since the middle of last year.
Broader Battleground
"When we field out-of-the-box candidates -- veterans, small businesswomen, prosecutors -- we win. And we have candidates in districts like these all across the country," said John Lapp, a strategist who served as executive director of the Democratic Congressional Campaign Committee when the Democrats won control of the House in 2006. "The battleground map for Democrats just got even broader."
Republican leaders tried to minimize Lamb's performance in the GOP-leaning district by portraying him as more closely aligned with their party.
"I think the candidate that's going to win this race is the candidate that ran as a pro-life, pro-gun, anti-Nancy Pelosi conservative," House Speaker Paul Ryan said Wednesday. "This is something that you're not going to see repeated because they didn't have a primary. They were able to pick a candidate who could run as a conservative."
While Lamb said he wouldn't support Pelosi continuing as the Democratic leader in the House and talked like a Republican on issues such as crime, fracking, and gun owners rights, many of his positions fit easily within the Democratic Party platform.
Lamb criticized the Republican tax overhaul as too much of a boon to the wealthy that short-changed the middle class. He opposes Republican attempts to repeal Obamacare and supports abortion rights. He backs unions and promised to resist cuts to Social Security.
A switch in House control is well within Democratic reach. The party needs a net gain of 24 seats and the party holding the White House has averaged a net loss of 26 in midterm elections since the end of World War II.
Democrats saw a surge in turnout in recent special elections, as well as in last week's primaries in Texas. In polls showing generic congressional match-ups, they lead Republicans by margins ranging from six to 10 percentage points.
Although Democrats need just two seats to claim the Senate, they have a bigger challenge there than the House because they're defending 26 seats, compared to just eight for Republicans.
After Trump, Pelosi may have been the next biggest loser in the special election. The top House Democrat and a favorite Republican campaign target was persona non grata to Lamb.
Lamb's deliberate distancing from the California liberal could embolden other Democrats to defy a woman deeply unpopular in rural American who wants to sit again in the speaker's chair.
Whether Democrats can replicate what Lamb did in a district with influential labor unions and a long tradition of coal mining and steel-making remains to be seen. The Marine veteran and former federal prosecutor was a unique candidate who ran a campaign tailored to the district.
Even as national news media descended on the district, Lamb worked to keep the race local in focus and bipartisan in tone. He also insisted he wasn't running against Trump.
"I call myself a Pennsylvania Democrat," he said Wednesday on CNN. "It means we will work with the other side.''
Outpaces Clinton
The places where he performed the strongest were the sort of suburban areas his party is targeting. Lamb matched or outpaced Hillary Clinton's performance in the 2016 presidential election across the district, including the vote-rich Pittsburgh suburbs of Allegheny County, where he won 57.2 percent of the vote. Saccone, a state representative and Air Force veteran, wasn't able to equal Trump's results in more heavily Republican areas. In Westmoreland County, he won 57 percent of the vote, compared with Trump's 64 percent in 2016.
In the closing days of the contest, Saccone was criticized by fellow Republicans for running a lackluster campaign.
"Candidates matter, as does the type of campaign," said John Feehery, a Republican lobbyist and previous House leadership aide. "Hopefully, Republicans will learn and adapt."
The special election attracted out-sized attention from both parties, including at least $18 million invested by the candidates, national committees, super-political action committees and other outside groups, according to Issue One, a nonpartisan group in Washington that advocates for lessening the influence of money in politics.
All of the spending for the special election came even though the district will soon cease to exist in its current form.
Barring a reversal by the federal courts, Tuesday's election will be the last held under a Pennsylvania congressional map the state Supreme Court invalidated in January and then supplanted last month with one more favorable to Democrats. The court found that the Republican-drawn map unlawfully diluted Democratic votes.
In that case, Lamb and Saccone could run again, but likely wouldn't face each other.
— With assistance by Arit John
Before it's here, it's on the Bloomberg Terminal.
LEARN MORE