Mueller Risks Crossing Trump's Red Line With Reported Subpoena
By
Trump Organization supoenaed by Mueller, says New York Times

President has suggested his business is beyond scope of probe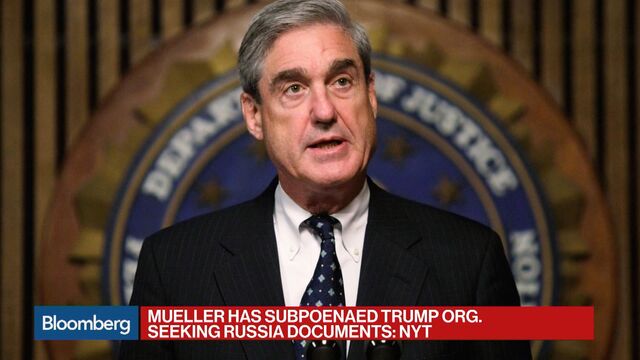 Special Counsel Robert Mueller may have crossed a line President Donald Trump set out early in the investigation into possible Russian meddling with his latest move: a reported subpoena of the Trump Organization.
The breadth of the subpoena, reported by the New York Times, is unclear, but Trump has suggested that he views his real-estate business as beyond the purview of Mueller's investigation.

The development triggers new concern that Trump, who is in the midst of a high-level staff shake-up, may try to oust Mueller, which could set off a political crisis in Washington and perhaps even a constitutional struggle.
Back in July, Mueller began examining a broad range of transactions involving Trump's businesses as well as those of his associates, Bloomberg News reported. Those included Russian purchases of apartments in Trump buildings, Trump's involvement in a controversial SoHo development in New York with Russian associates, the 2013 Miss Universe pageant in Moscow and Trump's sale of a Florida mansion to a Russian oligarch in 2008, according to a person familiar with the matter.
Your Guide to Understanding the Trump-Russia Saga: QuickTake
Up to now, Trump has been cooperating with Mueller's probe, even as the special counsel has indicted or secured plea deals with four of the president's former aides or advisers. Since last year, Trump's legal team has been negotiating terms for the president to be interviewed by Mueller's team.
'This is About Russia'
Trump has never said explicitly that he would fire Mueller if the prosecutor went after Trump's finances, but asked by the New York Times last July whether that would be a red line, he replied, "I think that's a violation. Look, this is about Russia."
Trump's lawyer John Dowd has also said that digging into Trump's businesses would exceed Mueller's mandate.
The breadth of matters being subpoenaed wasn't immediately known, nor was how deeply it delves into the history of Trump's real estate, hotel and branding businesses. Mueller's main charge is to investigate Russia's interference in the 2016 presidential campaign. But according to the Justice Department order establishing his probe, he also has authority to investigate "any matters that arose or arise directly from the investigation."
White House press secretary Sarah Huckabee Sanders deflected questions about a subpoena during her daily news briefing Thursday.
'No Collusion'
"As we've maintained all along and as the president has said numerous times, there was no collusion between the campaign and Russia," she said.
"We're going to continue to fully cooperate out of respect for the special counsel," she added. "We're not going to comment."
Mueller's team of prosecutors have asked some witnesses about Trump's business -- particularly a push in 2015 to build a Trump Tower in Moscow -- but until now the special counsel's focus has been on Trump's campaign and the White House.
In recent months, the Trump Organization has been cooperating with Mueller's investigation and it's unclear what prompted Mueller to issue a subpoena.
'Old News'
Alan Futerfas, a lawyer who represents Donald Trump Jr., the Trump Organization's executive vice president, said in a statement: "Since July 2017, we have advised the public that the Trump Organization is fully cooperative with all investigations, including the Special Counsel, and is responding to their requests. This is old news and our assistance and cooperation with the various investigations remains the same today."
Longtime Trump lawyer Michael Cohen has told congressional investigators that the Trump Organization weighed a proposal to build a hotel and condominium tower in Moscow. Cohen said the Trump Organization signed a nonbinding letter of intent in October 2015 with Moscow-based I.C. Expert Investment Company.
The company solicited building designs from architects and engaged in preliminary financing discussions. But the project ultimately fizzled, and Trump wasn't involved in the decision to abandon it, Cohen said. The discussions, which continued into the 2016 campaign, were about a "real estate deal and nothing more," Cohen said.
Democrats on the House Intelligence Committee have called on Republicans to subpoena Deutsche Bank AG for financial records on Trump Organization accounts "to evaluate allegations about money transfers and other activity linked to Russia and whether there is any Russian involvement in Deutsche Bank's loans and other transactions with the Trump Organization," according to a memo they released Tuesday.
Trump's presidential campaign and the White House have already turned over more than 1.4 million pages of documents to Mueller, and he has interviewed more than four dozen aides and former staffers.
— With assistance by Shannon Pettypiece, and David Voreacos
Before it's here, it's on the Bloomberg Terminal.
LEARN MORE