markets
Credit Suisse Sued by Investor Over Crashed Volatility Note
By
Bank, leaders are accused of manipulating XIV notes' price

Firm disputes claim, says product for sophisticated buyers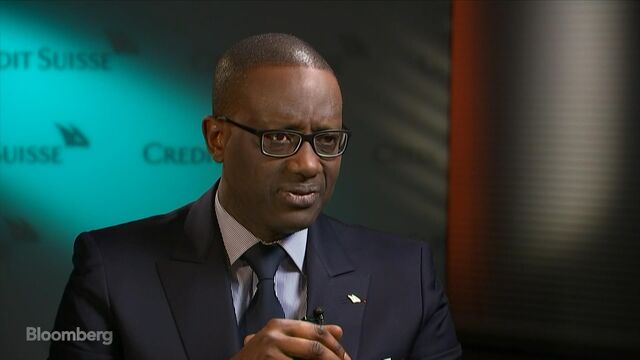 Credit Suisse Group AG was sued by an investor who got burned last month betting against stock-market turmoil, as more people seek to recoup steep losses on VIX exchange-traded products.
Rajan Chahal filed the lawsuit Wednesday in federal court in New York against the bank, Chief Executive Officer Tidjane Thiam and David Mathers, finance chief, alleging they failed to disclose the company was manipulating its VelocityShares Daily Inverse VIX Short-Term exchange-traded notes, known by the trading symbol XIV. Chahal's complaint seeks class-action status on behalf of other buyers.
U.S. regulators have been scrutinizing the implosion last month of a variety of VIX exchange-traded products that were designed to profit in calm markets. The blowup, which centered around a spike in volatility on Feb. 5, has put a spotlight on a small corner of the more-than $3 trillion exchange-traded fund industry that lets everyone from hedge funds to mom-and-pop investors engage in complex trading strategies.
Read more: VIX fund blowups spur U.S. to hunt for potential misconduct
"Credit Suisse was actively manipulating the Inverse VIX Short ETNs by liquidating its holdings in various financial products to avoid a loss," Chahal's attorneys wrote in the complaint. The filing mainly draws on public information, while noting Chahal aims to turn up more evidence to bolster the case .
Credit Suisse disputed the claims.
"The publicly available prospectus accurately and fully disclosed the risks of an investment in XIV, which is only intended for sophisticated institutional clients," the Zurich-based bank said. "Credit Suisse did not engage in any conduct designed to mislead investors regarding XIV's value or cause the February 5, 2018, decline in XIV's price."
The fund's market value topped $2 billion in late January before losing most of its value in early February. Credit Suisse announced it would buy back shares in the product because there was no prospect of price recovery.
Chalal seeks to represent a class of all investors who bought the Credit Suisse exchange-traded notes beginning Jan. 29, when the bank filed a pricing supplement on 16,275,000 of the notes. Chalal claims the notes contain misleading statements.
The case is the latest targeting alleged fraud in the market for VIX exchange-traded products. In February, an investor sued a group of unknown "John Doe" firms and individuals that allegedly conspired to manipulate price of of VIX-linked financial instruments on the Cboe Options Exchange.
Last month, at least three other manipulation cases were filed in New York and one in Chicago. The investors in all four cases are seeking to represent classes of investors and say they need information from the exchange, which isn't named as a defendant, to determine the identities of the manipulators.
Is the VIX Being Gamed? A Sudden Swoon Has Traders Talking Again
The suit offers no details about Chahal other than to say he purchased notes and "was damaged thereby." A call to his lawyer wasn't immediately returned.
The case is Chahal v. Credit Suisse Group AG, 18-cv-02268, U.S. District Court, Southern District of New York (Manhattan).
— With assistance by Bob Van Voris, and Christie Smythe
Before it's here, it's on the Bloomberg Terminal.
LEARN MORE