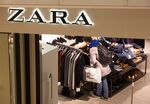 It's not just hemlines that are coming down at Inditex. Profitability has been pummeled by the strong euro. 
The company produces about 60 percent of its garments close to its headquarters in northwest Spain, but sells globally. A stronger euro should necessitate price increases, but it chooses not to pass higher costs on, pressuring margins. What's more, as it only sources about 30 percent of its products from Asia, compared with about 80 percent at rival Hennes & Mauritz AB, it will benefit less from a weaker dollar.
But the issues that Inditex faces are not all about currency: even it cannot resist the pressures on the mid-market apparel sector, including that women are simply buying fewer clothes.
Like rival H&M, Inditex is being squeezed on a few fronts. Primark is expanding aggressively outside of its home market while improving the quality of its stores, making them more like boutiques than bargain basements. That makes Inditex's Zara look more expensive.
What's more, as Bloomberg Intelligence's Chris Chaviaras and Charles Allen have noted, rivals are finally emulating Inditex by shortening their supply chains, enabling them to capture some of its advantage.
Finally, online only rivals are springing up, such as Boohoo.com, which are able to get trends to customers quickly -- and cheaply.
That all makes for a more challenging environment. Consequently, Inditex is stepping up its focus on online, and stepping away from a frenetic pace of store openings with fewer, but larger outlets.
Such moves are sensible, but are likely to mean slower sales growth going forward.
Inditex is a class act. Its so-called proximity sourcing means that it can react quickly to changing trends and weather patterns. As apparel retailers update on the difficult first quarter, its performance is likely to be among the strongest.
It has had a great run, but sustained outperformance is going to get harder from here. Even the sector's superstar can't escape clothing's wardrobe malfunction.
Before it's here, it's on the Bloomberg Terminal.
LEARN MORE