U.S. Urges Quick Balkan Solution as Serbs Reject Kosovo Army
By and
Serbian leader says no legal grounds to set up Kosovo Army

State Department's Mitchell says it won't be threat to Serbia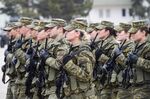 Serbia and other western Balkan states seeking to join the European Union should seize the opportunity to settle disputes, including over the forming of an army in Kosovo that Serbs staunchly oppose, a top U.S. diplomat said.
U.S. Assistant Secretary of State A. Wess Mitchell, on a visit to Belgrade, praised an already existing force of 4,000 lightly armed soldiers in mostly ethnic-Albanian Kosovo and told Serbs they shouldn't see it as a threat. Serbian President Aleksandar Vucic said there were no grounds to establish the army. He argued that Kosovo became a protectorate under a UN Security Council resolution in 1999 that ended a war over the territory.
"We support Kosovo's legitimate right to have a professional security capability," Mitchell said Wednesday after meeting President Aleksandar Vucic in Belgrade. "No one can have a veto on Kosovo's ability to develop those capabilities."
The debate underscores Serbia's biggest obstacle on its efforts to join the EU by 2025. The European Commission has demanded Belgrade normalize ties with its neighbor. Serbia continues to claim it as its historic province, rejects its secession and has blocked Kosovo's attempts to become a member of the United Nations with the help of Russia and China.
Even though Kosovo declared independence unilaterally in 2008, the only troops permitted there are from the NATO-led KFOR force, which took over when a bombing campaign by the military alliance forced Serb troops out, Vucic said.
Setting up its own army is important for Kosovo as it continues to push for international recognition. When it proclaimed independence, with U.S. backing, its constitution didn't immediately envisage a full-fledged army. An amendment to change that requires consent from Kosovo's minorities, particularly Serbs, who are strongly against upgrading the current Kosovo Security Force.
Held Back
Mitchell called for using a "window of opportunity to make progress, resolve issues that have held Western Balkans back for too long" after their former fellow Yugoslav republics Slovenia and Croatia joined the EU.
Vucic made a case for U.S. involvement, an argument highlighting his balancing act to both bring his country closer to the West while maintaining ties to Russia and other powers, including China and Turkey, that are seeking to increase their influence in a volatile region that was the site of the bloodiest conflicts in Europe since World War II.
"People should be aware that without the Americans, we can't solve the Kosovo problem, or any other," Vucic said.
Before it's here, it's on the Bloomberg Terminal.
LEARN MORE