politics
Putin Prepares to Hit Back at U.K. for Spy-Poisoning Expulsions
By and
Kremlin says Putin to decide on retaliatory measures soon

May expelled 23 diplomats and announced state-asset freeze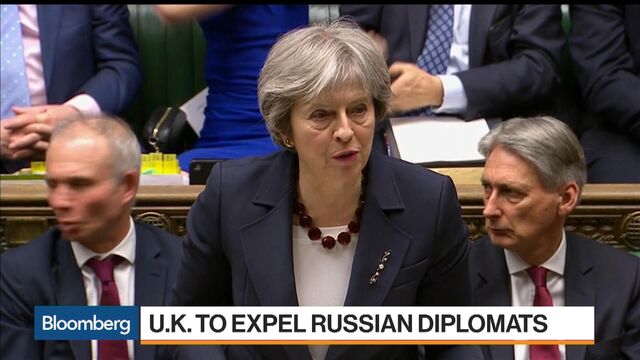 Russian President Vladimir Putin is preparing to retaliate against the U.K. after Prime Minister Theresa May threw out 23 diplomats over the poisoning of a former spy and his daughter on British soil.
Russia will "certainly" expel British diplomats soon in response, Foreign Minister Sergei Lavrov said in Moscow, the state-run RIA Novosti news service reported. Foreign Ministry and other government officials are preparing measures against the U.K.'s "absolutely irresponsible" behavior and Putin will decide how best to act, Kremlin spokesman Dmitry Peskov told reporters on a conference call Thursday.

May told Parliament Wednesday that the U.K. will also move to freeze Russian state assets in response to what she called an "unlawful use of force" involving a weapons-grade nerve agent. More steps will be taken in secret, she said, a hint that Britain could launch cyber-attacks on Kremlin interests.
Other wide-ranging responses, such as financial sanctions or preventing Russian banks from using the SWIFT international payments messaging system, require multilateral support and time.
The crisis is a test for May's authority at a critical time in the country's history. As she navigates the U.K.'s exit from the European Union, May is trying to maintain close security ties with the bloc while also preserving British influence around the world. The degree of support from the premier's international counterparts will be a sign how they value relations with the U.K.
'Defining Moment'
In the past days, she's sought support from international allies and has spoken to U.S. President Donald Trump, German Chancellor Angela Merkel and with French President Emmanuel Macron on Thursday morning.
Macron is scheduled to attend an economic forum in St. Petersburg in late May. Asked if he would still go, Macron answered he'll announce in coming days "measures" he'll take.
While French officials have condemned the Salisbury attack, calling it a "serious incident," and expressed their solidarity with Britain, they hadn't until the phone call on Thursday singled out Russia as being responsible.

U.S. Ambassador Nikki Haley blistered Russia on Wednesday at the UN Security Council, saying the U.S. "believes Russia is responsible for the attack." She cast the UN's response to the Skripals' poisoning as a "defining moment -- the credibility of this Council will not survive if we fail to hold Russia accountable."
Later in the day, the White House said in a statement that the U.S. shares the U.K.'s "assessment that Russia is responsible for the reckless nerve agent attack on a British citizen and his daughter" and so viewed the diplomats' expulsion "as a just response."
"I've been heartened by the strength of support from around the world," U.K. Foreign Secretary Boris Johnson told the BBC on Thursday. "There's a global disgust at what has happened and that's very important. We will continue to make the case to our friends and allies that as a comity of nations we need to stand up to Russia."
Yet, it remains to be seen if words of support from Britain's allies will translate into multilateral action. May will find out in the days and weeks ahead if when it comes to security matters the EU will have the U.K.'s back or if the country is on its own as it pushes ahead with Brexit.
Read more about Novichok, the Russian nerve agent spooking Britain
At home, the confrontation with Russia served as a backdrop for a major speech by Defence Secretary Gavin Williamson, where he accused Putin of ripping up the international rule book. He announced the U.K. will offer anthrax vaccines to its soldiers and will set up a 48-million-pound chemical weapons center.

The situation has also created problems for Jeremy Corbyn, leader of the opposition Labour Party, after his spokesman questioned whether Russia was behind the attack. Corbyn himself didn't offer a view on Russia's culpability when he addressed Parliament, reviving tensions with his own lawmakers. They were greeted with loud cheers from the governing Conservatives as they stood to offer May their support.
The first use of a nerve agent on European soil since World War II is a direct challenge to the Western alliance, days before elections are almost certain to give Putin a fourth term as president. Russia refused to recognize May's deadline of midnight Tuesday to provide an explanation for the attack on Sergei Skripal and his daughter Yulia in southwest England. The pair remain in a critical condition.

'Sarcasm, Contempt'
"They have treated the use of a military-grade nerve agent in Europe with sarcasm, contempt and defiance," May said. "There is no alternative conclusion other than that the Russian state was culpable."
She gave the 23 officials one week's notice to leave the U.K. The expulsion of "undeclared intelligence officers" based in London would "dismantle the Russian espionage network in the U.K.," she added.
Johnson said samples will be provided to the Organisation for the Prohibition of Chemical Weapons for testing.
Other steps May announced include:
New powers for security services to detain individuals suspected of "hostile state activity" at the British border, with further measures considered to stop foreign agents operating in the U.K.
Increased checks on private flights, customs and freight
Freezing Russian state assets "wherever we have the evidence that they may be used to threaten the life or property of U.K. nationals or residents"
Police to target "serious criminals and corrupt elites." May said: "There is no place for these people -- or their money -- in our country." This was the closest May came to threatening the wealth of London-based oligarchs -- some of whom are Putin's enemies while others are close to him
High-level boycott of this year's soccer World Cup in Russia -- U.K. ministers and members of the British royal family will not attend
— With assistance by Kitty Donaldson, Thomas Penny, Alex Morales, Kambiz Foroohar, Gregory Viscusi, and Helene Fouquet
(
Updates with Macron's plans for St. Petersburg visit.
)
Before it's here, it's on the Bloomberg Terminal.
LEARN MORE