politics
Trump Uses California Trip to Double Down on Immigration Fight
By
Scholars say legality of challenged laws turns on fine print

Split high court ruling on Arizona case shows nuances at stake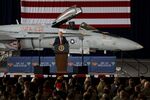 It didn't take long for Donald Trump to add insult to injury in the administration's fight with California over its protections for undocumented immigrants.
Trump used his first trip to the state as president to rail against California's resistance to immigration rules, saying in a tweet that the "sanctuary policies are illegal and unconstitutional." California Governor Jerry Brown has been just as aggressive, calling the administration "full of liars."
The rhetoric heated up quickly last week after the Justice Department sued the state. In a dramatic twist this week, a spokesman for U.S. Immigration and Customs Enforcement quit, according to media reports, saying he could no longer bear telling falsehoods on behalf of the administration.
Legal experts say neither side has a slam-dunk case. Much like the constitutional showdown that went all the way to the U.S. Supreme Court when Arizona spearheaded an enforcement crackdown in 2010, the battle over California's laws shielding undocumented immigrants from deportation will be all about the fine print.
"These three statutes aren't going to be swept away by this lawsuit," David Levine, a professor at UC Hastings College of the Law in San Francisco, said by phone. "It's going to be piece by piece. The trial judge will pick out some provisions that went over the line. Both sides will claim victory."

Why 'Sanctuary Cities' Are a Target for Trump: QuickTake Q&A
The dispute in Arizona was over a state law that expanded the powers of local police to enforce federal immigration law. In 2012, the Supreme Court voted 5-3 to strike down three provisions that the justices said usurped federal regulatory authority, while sparing the centerpiece of the statute that allowed law enforcement agents to check the immigration status of people they suspect are in the country illegally.
The complaint against California is the mirror opposite. U.S. Attorney General Jeff Sessions alleges that by prohibiting cooperation with federal authorities, the state is abdicating its responsibility to uphold the law.
"I fundamentally reject, at my core, that we should further endanger the lives of those who risk everything for us just because some officials in California wants to violate the law in promotion of their radical agenda," he said in a Feb. 7 speech in Sacramento, the state capital, to an audience of law enforcement officers.
Jurisdiction Fight
The two sides sparred this weekend over whether the case should remain in federal court in Sacramento, where it was assigned to a judge appointed by former President George W. Bush, or be transferred to San Francisco.

California Attorney General Xavier Becerra wrote that he favors San Francisco because a federal judge there, a Barack Obama appointee, is already examining whether California's laws run afoul of rules for certain federal law enforcement funding grants. Sessions called Becerra's request a "delay tactic." The Sacramento judge, John Mendez, on Monday ordered both sides to stop arguing and said he will decide on the transfer request without a hearing once each side has filed briefs.
Levine and another law professor, Jessica Levinson of Loyola University in Los Angeles, both predicted that wherever the California case lands, it will be fought all the way to the Supreme Court.
Levine called it a "textbook" clash between the constitutional principles of federal "supremacy" and states' rights. She said the outcome will govern future showdowns, "whether or not the state is red or blue and whether or not the federal government is controlled by Republicans or Democrats."
The professors also agreed that the statute probably most vulnerable to the attack by Sessions is one that restricts how much private employers in California can cooperate with federal officials, including those at ICE.
"It's a little problematic to say to employers, 'If an ICE agent shows up in your facility, you can't consent to their request to come look in the non-public portions of the facility or the state will fine you,'" Levine said. "To me that seems a bridge too far."
Levine and Levinson said a measure signed by Brown in October that's become known as the nation's first "sanctuary state" law appears to be on more solid footing. It restricts state and local law enforcement officials from voluntarily giving federal agents information about immigrants who are subject to removal from the U.S.

The third statute requires the state attorney general to investigate immigration enforcement efforts by federal agents.
The key tension in the case, one that Levine called a gray area, is how far the state can sidestep federal enforcement prerogatives short of actively sabotaging them.
"The federal government is saying to California, 'You are obstructing,' and the state of California is going to say, 'We're just not helping," Levine said. "'If you can't do your job as efficiently as you'd like to, that's too bad."'
In a separate state battle over immigration enforcement, Texas got permission from a federal appeals court to enforce much, but not all, of its controversial sanctuary-city ban. Cities, law enforcement personnel and elected officials must immediately begin to cooperate fully with the Trump administration's crackdown on illegal immigration or face harsh penalties for resisting. The administration helped defend Texas's ban in court.
The case is U.S. v. State of California, 2:18-cv-00490, U.S. District Court, Eastern District of California (Sacramento).
— With assistance by Kartikay Mehrotra
Before it's here, it's on the Bloomberg Terminal.
LEARN MORE