politics
Trump's Trade Powers Would Be Curtailed Under Republican Plan
By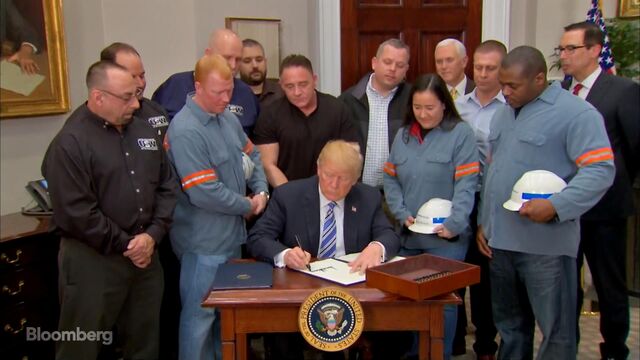 House Republicans are preparing a measure that would curtail President Donald Trump's authority to make unilateral trade decisions after his decision to impose steel and aluminum tariffs.
Representative Warren Davidson, an Ohio Republican, said Wednesday he has about 10 cosponsors for a House bill he plans to introduce that mirrors a Senate measure introduced by Senator Mike Lee, a Utah Republican. It would require the president to seek a resolution of approval from Congress before imposing tariffs and duties, Davidson said.
Trump's decision last week to follow through with a 25 percent duty on steel and 10 percent on aluminum caused alarm among lawmakers from both parties, who said the president's decision could raise consumer prices and hurt the economy. The president said U.S. political leaders preceding him had allowed the decline of manufacturing in the nation, and that the tariffs would protect American jobs.
Trump excluded Canada and Mexico from the tariffs, but Republicans said they wanted Trump to further narrow which countries would be penalized. Representative Dave Reichert, a Washington Republican who is chairman of a Ways and Means subcommittee on trade, said Congress is working with the White House to clarify how countries and companies can seek an exemption from the tariffs.
Meanwhile, at a Senate hearing on Wednesday, Commerce Secretary Wilbur Ross told lawmakers he recommended three alternatives to Trump on tariffs: quotas, a broad-based tariff structure or a highly targeted tariff structure.
Before it's here, it's on the Bloomberg Terminal.
LEARN MORE