markets
Five Things You Need to Know to Start Your Day
Get caught up.
By
Five Things You Need to Know to Start Your Day
By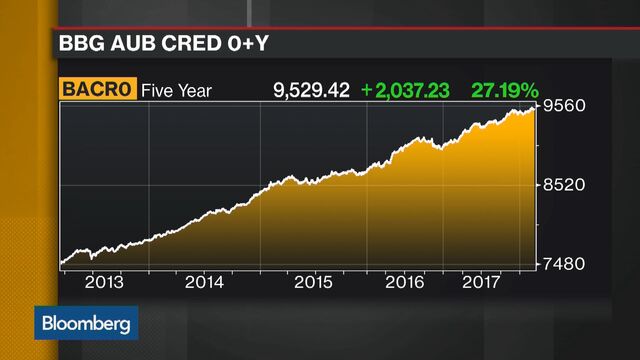 Want to receive this post in your inbox every morning? Sign up here
Investors are coping with concerns about a potential trade war amid shakeups at the White House. At the same time, an announcement on the next head of the PBOC looms, while bond giant Pimco is worried about Australia. Here are some of the things people in markets are talking about.
Trade-War Worries Remain Rife
The risk of a trade war appears to be rising after the departures of Gary Cohn and Rex Tillerson from the White House, strategists worry. U.S. stocks declined after starting the session in the green Wednesday, and the U.S. dollar was lower. Pictet strategist Luca Paolini said Wednesday that the chances of a trade war are still low, but rising, while Amundi Pioneer Asset Management sees the U.S. dollar falling about 12 percent within two years. The move to President Donald Trump's intended replacement as Secretary of State, Mike Pompeo, can be viewed as a victory for trade hardliners, said Evercore ISI's Terry Haines.
Stakes Climbing for U.S.-North Korea Meeting
Trump's firing of his top diplomat raises the stakes even further for his proposed summit with North Korean leader Kim Jong Un. In the months before his ouster, Rex Tillerson bumped heads with the president over whether to talk to North Korea -- and wasn't consulted before Trump agreed to meet Kim. Mike Pompeo, the hawkish CIA chief nominated to replace him as secretary of state, has defended Trump's snap decision on the talks. Concern among North Korea watchers of a military conflict is growing should diplomacy fail.
Pimco Sees Risks in Australia
Pacific Investment Management Co. is cutting its investments in Australian bank debt because of lofty valuations as well as trimming holdings of real estate and retailers' bonds. The unwinding of some of its holdings in Australian lenders' debt is the first such move in about five years by the $1.75 trillion money manager. Pimco's reduction of its exposure to notes sold by real estate investment trusts and retailers Down Under reflects concerns that surging personal debt will constrain consumption, according to Aaditya Thakur, senior vice president and portfolio manager in Sydney.
Trump Taps Kudlow
Trump has chosen economist and CNBC contributor Larry Kudlow to replace Gary Cohn as director of the White House National Economic Council, adding a longtime confidant to the president's inner circle. White House Press Secretary Sarah Huckabee Sanders said Kudlow "was offered, and accepted, the position." Kudlow, 70, is expected to provide familiarity and loyalty to Trump as the president removes moderating and dissenting voices from his administration. 
Who Might Be Next to Helm the PBOC
President Xi Jinping's pick to lead the People's Bank of China will finally be announced March 19, five months after incumbent governor Zhou Xiaochuan said he'd retire "soon." If Zhou does step down after 15 years in charge, he'll be handing on the reins of a central bank that's much more influential than the one he took over, both at home and abroad. Guo Shuqing, 61, Jiang Chaoliang, 60, Liu He, 66, Xie Fuzhan, 63, and Yi Gang, 60, are five of the top contenders for one of global central banking's most important jobs, though  there's no guarantee that the ultimate winner of the post is among those five.
What we've been reading
This is what caught our eye over the last 24 hours.