business
Broadcom Drops Qualcomm Bid, Pledges to Pursue U.S. HQ
By
Trump blocked the acquistion on national security grounds

Deal would have been the largest in technology industry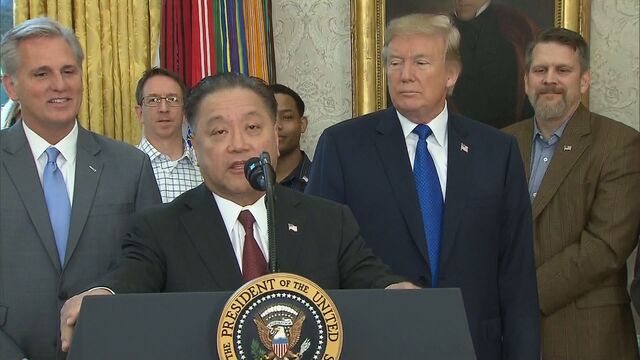 Even as Broadcom Ltd. formally abandoned a bid to buy Qualcomm Inc., the chipmaker said it still planned to switch its domicile from Singapore to the U.S.
Broadcom had first pledged to move its headquarters to the U.S. in November -- a move that appeared designed to appease U.S. officials and persuade them to bless acquisitions. Now that President Donald Trump has blocked the Qualcomm deal, the Singapore chipmaker could still pursue smaller deals in the U.S., analysts say.
"Broadcom will continue to move forward with its redomiciliation process," the company said in a statement Wednesday, bringing to an official end a months-long battle to land the technology industry's biggest ever deal.
The retreat ends Chief Executive Officer Hock Tan's most ambitious move yet in his efforts to build a chip empire, after leading Broadcom through a string of deals that have reshaped the $400 billion semiconductor industry in the last several years. The company launched its unsolicited bid in November and was quickly and repeatedly rebuffed by Qualcomm's management and board. Broadcom had been gathering support from investors to overturn its target's resistance to a deal.
An investigation of the deal by the Committee on Foreign Investment in the U.S., which reviews purchases of American businesses by foreign investors, confirmed national security threats related to the acquisition by Broadcom, the Treasury Department said in a letter to both companies made public March 12. Later that day Trump took the committee's recommendation and banned the deal.
CFIUS on March 4 ordered Qualcomm to postpone a shareholder meeting to vote on Broadcom's nominees as directors of the target. Broadcom aimed to win control of the board so it could advance with its hostile takeover. Treasury said Broadcom violated that order by not giving proper notice about moving its headquarters to the U.S.
The agency also cited the Defense Department's reliance on products made by Qualcomm, which is based in San Diego. The company has "active sole source classified prime contracts" with the Pentagon, according to a letter from Treasury.
QuickTake: Meet (and Pronounce) CFIUS, U.S. Watchdog on Deals
The March 4 letter prompted Qualcomm to postpone an annual meeting that was scheduled for just days later where shareholders were to vote on board candidates, including six nominated by Broadcom. According to voting return data seen by Bloomberg, Broadcom was on course to win control of the board that had been resisting its overture.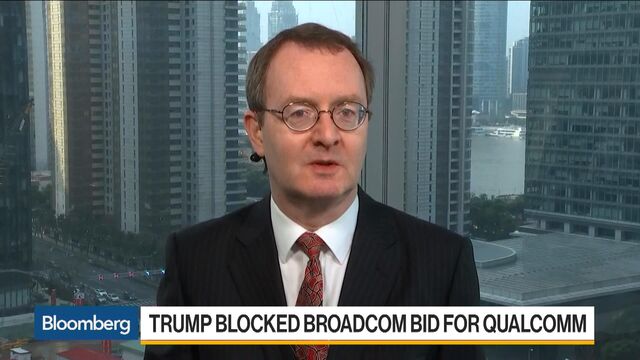 Qualcomm shares fell 1.9 percent to $58.54 at 9:49 a.m. in New York. Broadcom slumped 2 percent to $255.81.
(
Updates with shares in final paragraph.
)
Before it's here, it's on the Bloomberg Terminal.
LEARN MORE