Tillerson Cuts Short Africa Trip Amid 'Pressing Matters' in U.S.
By
Chad has carved out role as key ally in war on terrorism

Visit lasts a few hours after Tillerson decides to cut trip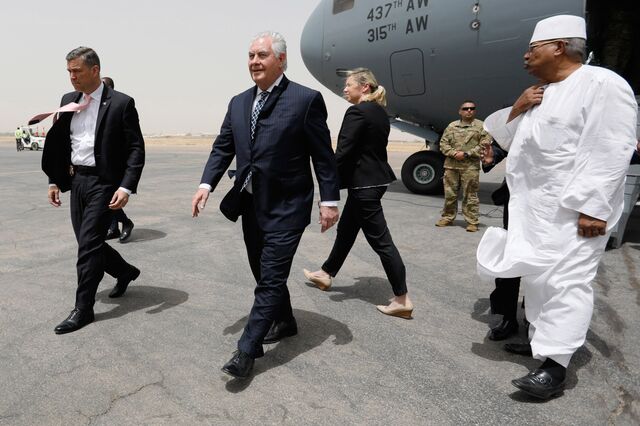 Secretary of State Rex Tillerson arrived in Chad Monday to show U.S. support for a key counter-terrorism ally furious over its inclusion on the Trump administration's visa-ban list.
With the stop, Tillerson became the highest-ranking U.S. official ever to visit Chad. He went straight into a meeting with President Idriss Deby, whom he negotiated with for a major oil contract during his 40-year career with Exxon Mobil Corp.
Tillerson was set to be in the landlocked African country only for a few hours under a compressed timeframe after he cut short his five-nation trip to the continent by a day to deal with North Korea and other pressing matters. He flies to Abuja, Nigeria later Monday.
"Due to demands in the secretary's schedule he is returning to the U.S. one day early, after concluding official meetings in Chad and Nigeria," said Undersecretary of State for Public Diplomacy and Public Affairs Steve Goldstein.
Visa Ban
A key mission for Tillerson will be to ensure sustained Chadian cooperation, while also easing its displeasure for being included last September on the visa-ban list. Chad's military provides troops to United Nations peacekeeping missions, it hosts hundreds of thousands of refugees and it's also helping counter militant groups linked to al-Qaeda and Islamic State in neighboring Libya.
Chad's inclusion on the list last year -- the other nations are Iraq, Syria, Iran, Libya, Somalia, Yemen, Venezuela and North Korea -- proved head-scratching, and came after a sharp internal debate within the administration given Chad's role as an important ally.
But the main problem Chad had was that a partner who contributes to U.S. counter-terror efforts is essentially being lumped with pariah states such as North Korea and Venezuela on the visa list.
Chad was also confused because National Security Adviser H.R. McMaster said in September it might be able to come off the list "maybe in a couple of months."
Security Threats
The administration, led by the Department of Homeland Security, argued that terrorist groups are active in and around Chad and the country wasn't doing enough to halt people who may be security threats from entering the U.S.
As he has done so often in a fractious administration whose president is prone to toss barbs at other countries, Tillerson arrived in Chad as something of a calming influence, a respected figure who is familiar with the continent after years cutting deals as chief executive of Exxon Mobil.
The trip overall has been aimed at something similar -- assure partners that the Trump administration remains committed to its relationships with African nations, while crises elsewhere -- North Korea, the fight against Islamic State -- dominate headlines.
Tillerson's job was made even harder in January after Trump allegedly called African nations "shithole" countries. On this trip, he and African leaders have downplayed the episode, saying that the alliances remain strong.
Nonetheless, the trip hasn't been easy for Tillerson. It coincided with two major foreign-policy events: President Donald Trump's decision to impose tariffs on steel and aluminum imports, and the dramatic announcement on Thursday that the president would meet with North Korean leader Kim Jong Un in May.
Tillerson, 65, also fell ill while in Kenya and had to cancel planned events in Nairobi on Saturday. The secretary had gone two days without sleep while working on North Korea and other issues, Goldstein said on Saturday.
Before it's here, it's on the Bloomberg Terminal.
LEARN MORE