Japan's Finance Minister Under Fire as Abe School Scandal Deepens
By and
LDP lawmaker says ministry admits documents were altered

Opposition lawmakers calling on Aso to take responsibility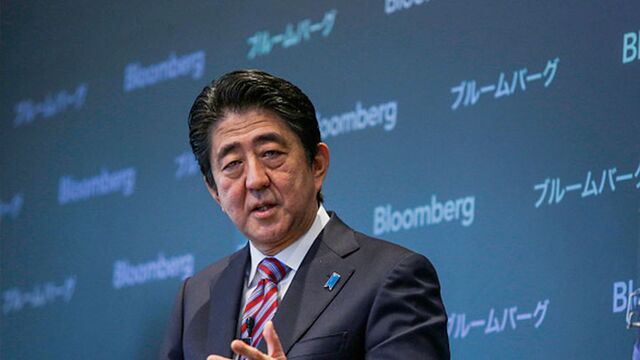 Japanese Finance Minister Taro Aso is coming under pressure to resign as a scandal over alleged favors to a school with connections to Japanese Prime Minister Shinzo Abe deepened.
Hiroshi Moriyama, a lawmaker in Abe's ruling Liberal Democratic Party, said Monday he received a report from the Finance Ministry admitting that documents on the sale of public land to the school were altered. The yen strengthened and stocks gave up some of their gains on concern that the scandal could derail Abe's economic stimulus program.
The Finance Ministry will concede its involvement in the alteration of 14 papers, removing the names of multiple politicians including some with cabinet experience, the Yomiuri newspaper reported earlier, without saying where it got the information. Opposition lawmakers said that Aso, who is also Abe's deputy, must take responsibility.
The name of Abe's wife, Akie, was among those deleted from documents, Kyodo News reported without saying where it got the information. The prime minister told parliament in February last year that he'd resign if any link emerges between himself or Akie and the land deal. Calls to the premier's private office weren't answered.
The scandal, which has dogged Abe for more than a year, probably won't hurt his ruling LDP's grip on power after a resounding general election win last autumn, but it could hamper his bid to become Japan's longest serving leader.
It's blown up again at a bad time for the prime minister, who is battling to get exclusions from steel and aluminum tariffs as President Donald Trump bemoans the U.S.'s trade deficit with its ally. He also has to contend with Japan's increasingly isolated stance on North Korea after Trump agreed to meet with Kim Jong Un.
Jun Okumura, a visiting scholar at the Meiji Institute for Global Affairs in Tokyo, said Aso will probably resign over the issue, and that the scandal will make it harder for Abe to win a third term as leader of the ruling LDP this autumn.
"If Aso resigns, the Abe cabinet itself will be in danger, together with much of the momentum for its policy agenda," Okumura said. "Aso is a political whale" and "his resignation would be much more damaging than that of the relatively junior cabinet ministers that we have seen."
Falling Support
The nation's tax chief stepped down Friday amid questions over his involvement in the deal, a resignation that came on the same day as an official at a regional finance ministry bureau in charge of the sale was found dead, in a suspected suicide.
The scandal is dominating newspaper front pages and TV news programs, and the approval rating of Abe's cabinet dropped to 48 percent in a poll published by the conservative Yomiuri newspaper late Sunday -- 6 percentage points down on the previous survey last month. About 70 percent of respondents to a separate Fuji News Network survey said Aso should step down.
Questions have been raised about whether Abe's wife's connection to the school meant its operator was able to buy government land cheaply.
Abe has repeatedly denied any involvement on his part, or that of his wife Akie, in the sale of land to Moritomo Gakuen, an educational foundation that subsequently filed for bankruptcy.
The foundation ran a kindergarten in Osaka known for espousing elements of the prewar nationalist curriculum, as well as for its explicit backing of Abe, and had planned to use the land for an elementary school.
— With assistance by Shoko Oda
Before it's here, it's on the Bloomberg Terminal.
LEARN MORE