Behind the Goldman Sachs Race to the Top Was a Quiet Battle for Blankfein's Favor
By
Investment banker David Solomon wins out as CEO successor

Co-president Harvey Schwartz will leave the firm in April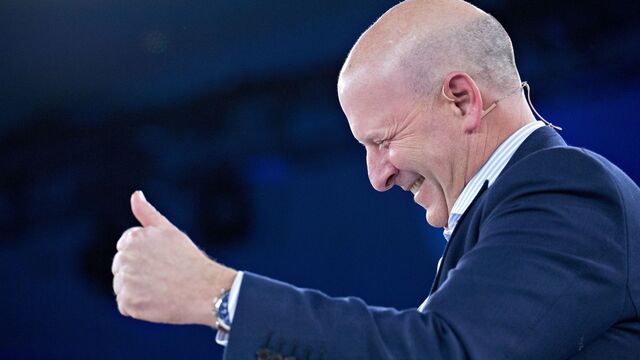 Lloyd Blankfein was about to bet the future of Goldman Sachs.
It was Feb. 21, and Blankfein had gathered with the Goldman Sachs Group Inc. board to reveal his long-awaited recommendation for the bank's next chief executive officer -- the one who would steer the Wall Street giant through the next phase of its 149-year history.
His pick: David Solomon.
That decision, embraced by the board that warm Wednesday in New York, has now officially set in motion one of the most closely watched successions in global finance. With the formal announcement of the move on Monday, Solomon's chief rival for the job, Harvey Schwartz, abruptly announced his resignation. The job is, in effect, now Solomon's to lose.
His rise to heir apparent prompts a host of questions for Goldman, including the big ones: When exactly will Blankfein make his handoff, and what will Solomon do then? Blankfein and the board were impressed, insiders say, by Solomon's proven ability to build businesses at a time when the bank is looking to grow, the strength of the investment-banking team he put together and his efforts to recruit and retain talent.
Blankfein traveled the week after the board meeting and didn't have a chance to discuss the decision with the two executives. It was only last week or so that Blankfein told them about the board's call, one of the people said.
The question of Blankfein's successor heated up on Friday, when the Wall Street Journal reported that the CEO would step down as early as the end of this year. Blankfein later tweeted that the announcement wasn't his. Monday's statement didn't mention a timetable for his retirement.
Solomon and Schwartz have been directly competing for Blankfein's endorsement -- and by extension, a shot at the top job -- since being promoted to co-presidents in late 2016, after Gary Cohn, Blankfein's longtime No. 2 executive, left to join President Donald Trump's administration. Schwartz, 54, started with advantages in his visibility with investors, having served as chief financial officer for three years, and his knowledge of the firm's largest business, the trading division.
Closing Gaps
Solomon, 56, known for passions from skiing to wine collecting to moonlighting as an electronic music disc jockey, sought to close the gaps in his professional experience and play up his work building businesses.
"Being at a firm like Goldman -- which is so multifaceted, global, with so many products -- over time he had to drill down and understand a very complex business," said Alan Schwartz, chairman of Guggenheim Partners who worked with Solomon at Bear Stearns. "And he's done it. So as Goldman has grown dramatically, David's capabilities have grown with it."
Solomon's ability to build new client businesses became even more valuable when the bank decided it had focused too much on hedge funds at the expense of corporations as trading customers. Schwartz, still in the mindset of his previous role as CFO, showed what some saw as too much risk aversion as the markets business struggled last year, one of the people said.
Solomon has led a push on retaining junior bankers, scaling back the hours they work and making them rest on Saturdays. His hobby as a DJ demonstrates that even the top brass can have a life outside work, he's said. One of Solomon's pastimes made news earlier this year, when his former personal assistant was arrested on charges that he stole more than $1.2 million of rare wine from his boss.
The competition has been a favorite topic of conversation within the halls of Goldman's Manhattan headquarters, with one executive saying it distracted from day-to-day business.
"The increased transparency also likely puts insiders more at ease so that they can focus on running Goldman Sachs," UBS Group AG analyst Brennan Hawken wrote in a report Monday. The "move to expand beyond trading could get a subtle boost under Mr. Solomon given his diverse background (i.e. not another trader)."
'Banking Future'
Solomon, a former investment banker, has been boosted by the strength in that business, where Goldman Sachs posted record revenue in 2017. The firm's fixed-income trading business, which produced Schwartz, is coming off its worst year in more than a decade.
Still, Schwartz may be able to go out on a high note. He will leave the bank on April 20, the New York-based company said in a statement Monday. That's the Friday after Goldman Sachs reports first-quarter earnings, and banks across Wall Street have forecast jumps in revenue as volatility returned to the markets.
Solomon rose through the financing business after joining as a partner from Bear Stearns Cos. and ran the firm's top-ranked investment-banking business for a decade. During that time, Goldman Sachs decided to build out the debt capital markets business, largely territory dominated by the large commercial banks like JPMorgan Chase & Co. and Bank of America Corp. The business now ranks among the largest lenders to M&A buyers, and it reported record revenue last year.
"We saw the future as more of an investment-banking future than a securities or trading future and that favored Solomon," Charles Peabody, a Compass Point Research & Trading analyst, said in an interview with Bloomberg Television.
Solomon has also taken on a leading role in the firm's diversity push, including presenting ideas to the board last June. He's pushed for incoming classes of junior employees to be closer to 50 percent women in order to boost the pipeline of female talent, and brought in Sarah Marie Martin as a partner from Credit Suisse Group AG.
— With assistance by Jennifer Surane, Erik Schatzker, and Sonali Basak
Quotes from this Article
Before it's here, it's on the Bloomberg Terminal.
LEARN MORE