Five Things You Need to Know to Start Your Day
By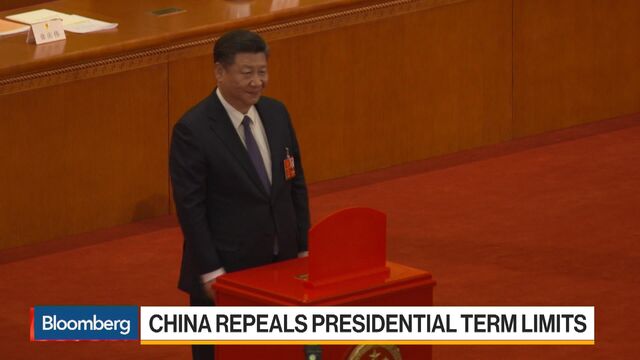 Want to receive this post in your inbox every morning? Sign up here.
China signs off on unlimited presidential terms, equity markets look set to kick off the week with a strong start, and the Bank for International Settlements flags risks within economies from Canada to China. Here are some of the things people in markets are talking about.
Xi All the Time
China's parliament passed sweeping changes to the constitution Sunday, repealing presidential term limits to allow President Xi Jinping to rule indefinitely. He's also taking other measures to dramatically expand the Communist Party's role in daily life. Since taking power five years ago, Xi has reasserted the party's supremacy, with himself as its "core" leader. That has meant greater control over personnel and strategy at state-owned enterprises, which control about 40 percent of the nation's industrial production, as well as schools and universities.
No Concessions
The U.S. will make no concessions to North Korean leader Kim Jong Un in discussions leading to potential talks between the reclusive leader and President Donald Trump, and during any subsequent negotiations, CIA Director Mike Pompeo told Fox News. Kim, on the other hand, must stand by the concessions he's offered, including ceasing nuclear and missile testing, continuing to allow U.S.-South Korean military exercises, and leaving denuclearization "on the table," Pompeo said. Trump may be meeting with Kim in the coming month, in the hopes of winding down the Asian nation's nuclear weapons program.
Equities to Rally
Asian equities are poised to jump after Friday's strong U.S. jobs data. The S&P 500 rose for a fifth day in six while Treasuries fell as the latest labor report showed the American economy continued to strengthen without rapid wage gains that stoked inflation fears. The dollar weakened against most peers except the yen. Oil advanced toward $62.  Equity futures in Japan, Hong Kong and Australia are up.
Coming Up…
Australian business sentiment surveys on Tuesday may show some pullback from recent highs after February's market turmoil, before U.S. CPI data comes in the U.S. session. Wednesday brings China industrial production and retail sales, before Thursday features New Zealand fourth quarter GDP. Friday delivers January TIC flow data – which tracks the flow of Treasuries in and out of the U.S. – due before the start of Asian trading. The previous release showed biggest net sales of Treasuries since Sept. 2016. The U.S. Treasury holds key debt auctions Monday and Tuesday with yields hovering near the highest levels in years after last month's sale drew lackluster demand. It will sell $21 billion in 10-year notes and $13 billion in 30-year bonds plus $28 billion of three-year notes, the most since 2014.
Banking Crisis Looming
China, Canada and Hong Kong are among the economies most at risk of a banking crisis, according to early warning indicators compiled by the Bank for International Settlements. Canada was flagged because of its households' maxed-out credit cards and high debt levels in the wider economy, even though its economy grew last year at the fastest pace since 2011. These same issues also afflict China and Hong Kong, according to the study. 
What we've been reading
This is what caught our eye over the last 24 hours.
Quotes from this Article
Before it's here, it's on the Bloomberg Terminal.
LEARN MORE