business
New York and Boston Face More Snow
By
Massachusetts faces more than a foot of snow along the coast

System is threatening to become a meteorological 'snow bomb'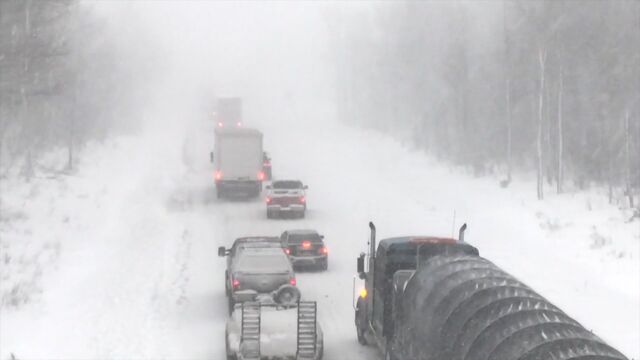 Another powerful winter storm is set to batter the East Coast, threatening to make a slushy mess of New York's morning commute Tuesday and bury Boston with more than a foot of snow.
By the time it's over, the nor'easter is forecast to dump 10 to 18 inches (25 to 46 centimeters) on Massachusetts, prompting a blizzard warning along the coast, the National Weather Service said. New York could get 2 to 4 inches. It's the third storm to rake the Northeast since March 2.
"This is a classic nor'easter," said Kim Buttrick, a weather service meteorologist.
The storm -- which forecasters say may evolve into a meteorological "snow bomb" -- comes as a stubborn high-pressure system has left conditions ripe for repeated late-winter storms. A March 2 storm knocked out power to more than 2 million people from Ohio to Maine and caused devastating flooding to coastal Massachusetts. Five days later, a second one dropped snow by the foot in New Jersey and across the lower Hudson River Valley.
Disrupting Travel
The storm is already disrupting travel. Amtrak is suspending Northeast Corridor service between Boston and New York until at least 11 a.m. Tuesday. And by 4:30 p.m. Monday, Airlines had canceled more than 1,100 flights, according to FlightAware, an airline tracking service.
The Massachusetts Bay Transportation Authority has scaled back commuter rail service and warned of delays. Boston has closed public schools Tuesday.
Winter storm warnings blanket New England and eastern Long Island. Regions from central New Jersey into Vermont are under winter weather advisories.
One upside is that the flakes falling Tuesday are expected to be lighter than those of the last two storms. That could keep power outages down because they won't put as much stress on branches and wires, said Benjamin Sipprell, a weather service meteorologist. That fluffiness is also what is driving up accumulation to a foot or more.
"The only place where they might get that heavy, pasty snow is out over the Cape and islands," Sipprell said.
'Huge'
The storm is expected to strengthen as it moves north, causing a steep enough drop in atmospheric pressure to meet the criteria of a meteorological bomb, said David Roth, a forecaster with the U.S. Weather Prediction Center in College Park, Maryland. For those keeping score, that means the system's central pressure will drop 24 millibars in 24 hours.
The epicenter is forecast to pass about 190 miles (306 kilometers) east of Martha's Vineyard -- but it will still batter the shoreline with rain and snow, Roth said. Ships have been warned to expect hurricane-force winds off the coast.
"These things can get huge," Roth said.
On the positive side, every day the sun climbs higher in the sky and stays there for more hours. That makes it harder for snow to stick and could bring an end to the pattern of storms, said Rob Carolan, a meteorologist with Hometown Forecast Services Inc. in Nashua, New Hampshire. Spring arrives March 20.
"Sooner or later," Carolan said, "the sun will start to take over."
Before it's here, it's on the Bloomberg Terminal.
LEARN MORE