politics
Ontario Gets a Taste of Populism With Doug Ford at Tory Helm
By and
PCs name new leader ahead of provincial election in June

Ford's late brother was infamous for admitting to cocaine use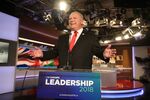 Canada's most populous province is getting a taste of the anti-establishment populism that helped elect Donald Trump and lead voters to support Brexit.
Doug Ford, brother of the late Toronto Mayor Rob Ford, was named leader of Ontario's Progressive Conservative Party three months ahead of a general election. Ford, who had little support among current lawmakers, edged out attorney and former provincial lawmaker Christine Elliott in chaotic balloting on Saturday.

Ford is a former Toronto city councilor who made a late run for mayor in 2014 after his younger brother was diagnosed with cancer. He came in second in that race behind former provincial legislator John Tory. Like his brother, Ford touted his connections to ordinary voters dubbed "Ford Nation" who want small government and a tough style of speaking.
Ford will now challenge Premier Kathleen Wynne to run Canada's largest provincial economy, which accounts for almost 40 percent of the nation's gross domestic product and is home to Toronto, the banking and corporate hub. The province is a key manufacturing region and boasts major auto assembly plants.
There was little reaction in the bond market with Ontario's 2.6 percent bonds coming due in 2027 trading at a yield of 2.89 percent, or 63 basis points over similar-maturity federal government bonds. "I don't think it really changes anything until we see the party platforms and we get closer to the election," said Joey Mack, Toronto-based director of fixed income at GMP Securities LP.
Unwanted Advances
The Tory leadership contest was triggered by the resignation of Patrick Brown in late January after a CTV News report featuring interviews from women who said he made unwanted sexual advances -- allegations he's denied. Similar claims also led to the exit of the party's president. Years of preparations to unseat Wynne's Liberals must now be refashioned ahead of the election on June 7. The Tories haven't held power since Wynne's predecessor Dalton McGuinty defeated former Premier Ernie Eves in 2003.
"To Kathleen Wynne, I say your days as premier are numbered,'' Ford said Saturday from the convention in Markham, a Toronto suburb. "We are going to spend the coming weeks getting our party in fighting shape.''
Ford, 53, acknowledged the confusion of a contested result that marred a day designed to recast the party as ready to govern again. The main event ended with images of crews taking down balloons that were meant to shower the new party leader hours earlier. "I know that many of the party members feel like they were let down by this process,'' Ford said of the voting.
Party Unity
A challenge to the allocation of electoral votes was heard by the appeals board following the tabulation of ballots, party official Hartley Lefton said Sunday in a statement. The challenge was dismissed after the chief electoral officer concluded that the issue "would not statistically lead to a change in the outcome."
"Doug's election was definitive and he will now lead our party into a general election," Lefton said. Elliott met with Ford Sunday and threw her support behind him with a focus on unifying the party as the June election looms, according to CBC News.
Ford said he was thinking of his brother after the victory.
Rob Ford had a troubled tenure after becoming Toronto's mayor on a promise to halt a "gravy train" of spending that appealed to voters in the suburbs of Canada's biggest city. He admitted to smoking crack cocaine, took a sabbatical to receive drug and alcohol addiction treatment, and became the butt of jokes on talk shows within and outside of Canada. He died in 2016 at age 46 after being diagnosed with liposarcoma, a rare type of cancer.
Voter Support
Doug Ford won the leadership race with "a pretty in-your-face style of conservatism that breaks through with a lot of people," former Ontario Tory Leader Tim Hudak told CTV News on Sunday. Ford may be able to draw voters who feel excluded, both from traditional Liberals and people who shied away from the Tories in the past, he said.
While about half of voters disapprove as Ford as leader, the Tories remain poised to win a majority government, according to a Forum Research poll published Sunday. Forty-four percent of decided or "leaning" voters said they support the party, ahead of the 27 percent for the New Democratic Party and 23 percent for the Liberals. The telephone poll of 923 Ontario voters was taken March 11 and has a margin of error of 3 percentage points, 19 times out of 20.
The Liberals said in a statement Saturday that under Ford, the Tories would slash vital health care and education programs and damage the economy. "The billions in cuts they are promising, and the divisive social conservative policies they are championing, will hurt Ontario's economy and change our province for the worse," Liberal campaign co-chair Deb Matthews said.
— With assistance by Josh Wingrove, and Maciej Onoszko
(
Updates with bond market reax in 5th paragraph, opinion poll in 14th.
)
Before it's here, it's on the Bloomberg Terminal.
LEARN MORE