This Famously Affectionate Country Has a Serious #MeToo Problem
Brazilian culture is suffused with warmth—and marked by harassment and assault.
By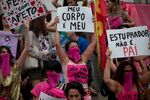 The two men were in São Paulo on business from the United States and felt a bit apprehensive. Should they greet their female colleague with the hug and cheek-kiss that's accepted—expected, in fact—in Brazil? Or would that cross a line?
Taking care to respect local customs is one thing, but worries that doing so might constitute sexual harassment are something new, says Nadir Moreno, the woman in question, who works as the United Parcel Service Inc. country manager for Brazil. "I don't know if they can be at ease anymore," Moreno says of her male co-workers, recalling how she tried to reassure them that the cheek kisses were fine. "For me it's not a problem, but I don't know for other people."
Post-Weinstein, companies around the world are adapting existing codes of conduct and adopting new rules, scheduling training sessions, and setting up employee hotlines. But in a country such as Brazil, which is famous for its warmth and sensuality but also burdened with what some would call entrenched patriarchal traditions, there's a struggle to find a balance.
"You have to understand the culture,'' says Wilma Dal Col, head of talent at the Right Management subsidiary of ManpowerGroup Inc. in Rio de Janeiro. "There are subtleties between what's harassment and what's an informal relationship."
For all the effort companies are exerting to make changes within the office, many are fearful lest word leak to the outside world and generate any good or bad publicity, according to human-resources consultants. Executives at about a dozen companies across the country either declined to comment for this story or didn't respond to telephone calls and emails.
"They've been so timid in talking about the issue," says Fernando Fleider, a managing partner at the risk management firm ICTS in Sâo Paulo, whose clients include Oi SA and Latam Airlines Group SA. "If Company X gives complete sexual harassment training to its employees, they think people will understand the company has a sexual harassment problem, not that it wants to avoid one."
With the heightened concern over what is acceptable, many men are at a loss, says Renato Santos, a partner with the compliance consultancy S2, whose local clients include Citibank NA, Samsung Electronics Co., and Embraer SA. "It creates an environment of confusion and almost robotic behavior. We see a lot of managers afraid of managing."
The blurred lines extend well beyond affectionate greetings. Casual touching is common in Brazil, and employees often bring stories of their love lives to work, sharing with their co-workers and bosses alike. Innuendo and comments on others' looks are mundane. Two-thirds of workers believe one's behavior or clothing, which tends to be more revealing in the tropical climate, can prompt sexualized remarks in response, according to a study by S2. That attitude amounts to victim-blaming, Santos says. In other words, it's part of the problem.
Sexual harassment has been a crime in Brazil since 2001, but only in case of bosses' interactions with subordinates. The law has been condemned as too narrow, particularly in a country where sexualized misbehavior is so widespread. More than four in 10 women in Brazil say they've been sexually harassed at work, on the street, on a bus, or at school, according to a poll conducted in November by Datafolha. Brazil's public ministry of labor and the International Labour Organization tried to address the issue last year, publishing a new primer on how to identify and report sexual harassment at work. But it went far beyond what's established in the law, adding to the confusion about what's right and what's wrong.
"The law is out of date," says Antonia Pellegrino, a screenwriter and well-known feminist. "It definitely needs to advance, to be improved, in light of the progress our society has made." She began working with fellow members of the independent film industry to create protocols and contractual clauses to protect workers after a wardrobe assistant accused an actor of rape in November. The director of the film they were working on fired the actor and told a local paper that he thought the accusation was a sign the #MeToo movement had made its way to Brazil. In a video Pellegrino posted on Facebook shortly after the incident, she asked, "The actor has done 57 films. Is it possible this was the first time he harassed or raped someone? Is it possible no one knew?"
What's going to help propel real change in the corporate sphere is pressure from the workforce itself, says Beralda Lima, coordinator of internships and career development at Fundaçao Getulio Vargas, a university in Rio de Janeiro. She recommends that her 3,000 students look for jobs at companies with clean track records and no macho culture. "Companies with 60-year-old men who think it's normal to harass, to tell a girl she smells nice, are trying to reinvent themselves because they're losing young talent,'' Lima says.
There was evidence of progress even before the new wave of action, says Fleider at ICTS, which trains companies on how to respond to sexual harassment complaints. The country's 2013 anti-corruption law provided a head start, as confidential reporting channels created to suss out fraud and graft have increasingly been used by harassment victims. ICTS manages these hotlines for more than 300 companies. Reported cases of harassment rose by 21 percent in 2016, the last year for which data is available from the National Justice Council.
The retailer Magazine Luiza SA last year went above and beyond protecting its employees from workplace matters, setting up a hotline for those who are victims of domestic violence, which is pervasive in Brazil. The resource has been a lifeline for dozens of female employees and has prompted men to think about the matter, says Gislaine Sandim, a specialist in Magazine Luiza's integrity area. The company's chairwoman in January instructed its 20,000 employees to begin discussing sexual harassment among themselves.
"We need to take this all out from under the rug and talk about it," says Sandim. "The taboo inside companies needs to be broken.''
—With assistance from Fabiola Moura.
Before it's here, it's on the Bloomberg Terminal.
LEARN MORE