Yale's Swensen (Mostly) Apologizes for Harsh Words to Students
By
Swensen stands by criticism of student paper's editing

He had called editor a 'coward' for deleting line from column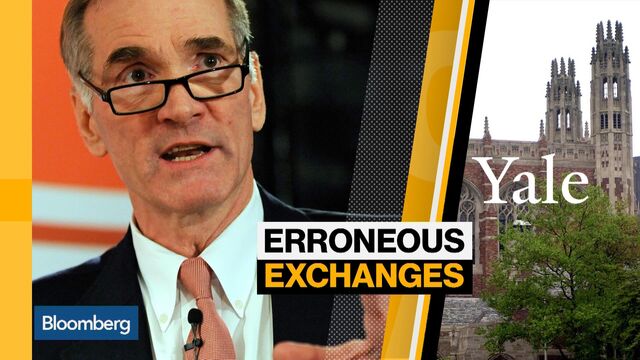 David Swensen, Yale's chief investment officer, apologized for his harsh language to student newspaper editors. But he didn't back down on his criticism of the Yale Daily News.
In a letter published Wednesday in the paper, Swensen, who manages the $27 billion fund, wrote, "I apologize for the intemperate language. I stand firm in my profound unhappiness with the News.'' He then spent the bulk of his almost 600-word letter reiterating his complaints, which include changes to his opinion piece without his approval.

Swensen, 64, found himself in an ugly spat on March 4 with the paper over coverage of the endowment and subsequent publication of emails between himself and students. In the exchange, he called the editor-in-chief a "coward" and asked if she understood "simple English."
Read More: Swensen Calls Yale Newspaper Editor a 'Coward' as Spat Heats Up
The letter on Wednesday continued the exchange, which is unusual because Swensen rarely speaks publicly about the endowment. His investment strategy has produced top performance, giving him a revered place at the Ivy League school and almost legendary status among money managers.
The controversy began after Swensen's opinion piece was published in the paper March 1. He excoriated the paper's earlier coverage of an activist-led, student teach-in that was critical of the endowment's investments. The newspaper later issued a correction.
Swensen told student editors in private emails that he didn't want his column edited. The editors had removed a line they deemed factually incorrect about whether a reporter contacted the investment office.
Read More: Yale's Swensen Talks About China, Quants, Manager Selection
"The piece was printed by the News with two edits (even though the editors only admit to one), removal of a sentence and removal of a footnote," Swensen wrote in the Wednesday letter. "I was astonished and angry. The questions 'Don't you understand simple English?' and 'What is the matter with you?' came to mind after the unauthorized printing of my op-ed, as did the adjectives 'disgusting' and 'inexcusable."'
The editors wrote in a note at the bottom of Swensen's letter: "The News does not typically engage in 'do not edit' agreements, a position we will reinforce moving forward, as we fact check every column we publish and considered this case no exception. Still, we understand Swensen's frustration and will strive to make our policies clearer in the future."
He also said the emails were printed without his permission. "I would not have granted permission if asked (I was not asked), because it was an informal exchange, clearly not written for publication,'' Swensen wrote Wednesday.
The university declined to comment about the exchanges between Swensen and the newspaper.
Before it's here, it's on the Bloomberg Terminal.
LEARN MORE