How Xi's Bid for Indefinite Rule Could Backfire
Bloomberg News
New political system may be breeding ground for policy error

In short term, Xi may be able to push through reform agenda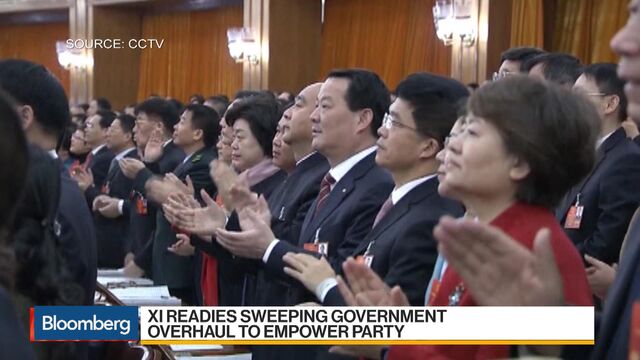 Chinese President Xi Jinping won't extend his rule without peril.
History is littered with leaders who sought to prolong their grip on power. While that may bring short-term continuity in policy and a sense of stability to the economy, in the longer term it can create risks, both for the countries they govern and for themselves.
China has seen that first-hand. When then-leader Deng Xiaoping introduced presidential term limits in 1982, he was seeking to avoid a repeat of the chaos of the Mao Zedong era and his almost three decades of autocratic rule.

Now the current president, who has amassed Mao-like power since taking over in 2012, is seeking to upend Deng's push for collective decision-making within the ruling Communist Party. China's national parliament could repeal presidential term limits from the constitution as soon as Sunday, allowing Xi to stay on past 2023.
Xi told a meeting on the sidelines of the legislative session Wednesday that the package of amendments reflected the people's will, state media reported.
In the near term, that may give Xi impetus to push his policy goals and wring out a long-due restructuring of the bloated finance sector. In doing so, he could potentially avoid the type of credit crunch and growth slump that afflicted the U.S. and Europe a decade ago.
Xi Jinping Has Got the Power, So How Will He Use It: Quicktake
Without any limits on his term, Xi might also better compel bureaucrats to focus on and follow through on thorny initiatives that require long-term effort, including reform of China's household registration system. Overseas, he is seeking to expand China's clout as a reinvigorated great power.
"The question is: over the medium and long term, does China really prosper in a political system where succession becomes totally unknown," said Evan Medeiros, a managing director at Eurasia Group who was a senior Asia adviser to former U.S. President Barack Obama. "That is where the downside risk becomes much more apparent."
"Xi has effectively engineered the return of personality-driven politics and that just leads to worse policy outcomes," Medeiros said. An immediate risk was Xi using his new-found authority to escalate tensions around the Trump administration's plan to jack up tariffs, he said.
Unchecked power anywhere raises the potential for leaders to be surrounded by sycophants. "It is very unhealthy and dangerous for one country's fate to rest on the prestige of just one or two people," Deng said in 1989. In China, that could lead to the sort of policy overreach and efforts to control society that end up weakening both the party and Xi.
Coal Backtrack
When Xi promised to unleash an "iron hand" against pollution, officials across the country quickly banned coal -- causing natural gas sales to spike -- before backtracking as they struggled to find supplies and connect villages to a centralized gas pipeline network. The episode illustrates what can go wrong when policy isn't completely thought out.

Xi has already embarked on a sweeping corruption crackdown within the party, bureaucracy, military and companies that has snared more than 1.5 million officials. In doing so, he has abandoned the long-held dictum that the party's most-senior officials be immune from prosecution in retirement. Zhou Yongkang -- the former security chief who once sat on the Politburo's supreme Standing Committee -- is the highest-ranking official prosecuted for corruption.
"It would be almost impossible to believe that every single senior leader agrees with this change," said Gu Su, a professor of philosophy and law at Nanjing University. "The two-term limit is one of the major changes that China introduced after the Cultural Revolution to balance the power of a paramount leader."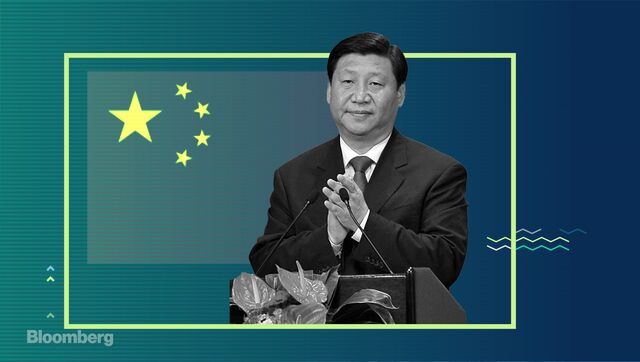 Party Role
Running alongside the repeal on presidential term limits is a broader overhaul of the political structure to be presented to the National People's Congress now meeting in Beijing. That revamp will give the party a bigger role over setting policy, Bloomberg News reported Tuesday.
Expanding the role of the party -- and coalescing power around its leader -- runs counter to Deng, who, mindful of Mao's policy catastrophes, warned against "replacing the government with the party." Mao's failures such as the Great Leap Forward -- which brought famine and recession to China -- and the mistakes of the Cultural Revolution, were officially recognized in the 1980s under Deng.
Under Xi's new organization structure, he and the party are at risk of carrying more of the blame if policies backfire, economic growth stalls or there is a collapse in the financial system. The government's push last year to eliminate unsafe rental units for Beijing's migrant workers, following a fire that killed 19 people, led to tens of thousands with no-where to sleep, and a backlash against the party.

Power Struggles
While China is using surveillance and online censorship to curb dissent, the party has seen power struggles in the past. In the late 1980s, Deng removed two party secretaries amid economic anxiety and student protests, and plunged China into international isolation after cracking down on pro-democracy demonstrators in Tiananmen Square.
Of the 70 autocrats who died in office between 1946 and 2012, regime collapse followed within five years of the autocrat's death in nearly a quarter of cases, according to a 2016 study in the Journal of Democracy.

Xi's changes make no provision for succession. At October's twice-a-decade meeting of the party, he broke with decades of tradition to unveil a new leadership line-up that didn't include a clear potential heir.
Xi was officially designated as the party's "core" leader in 2016, a status that gave him greater authority to push his agenda. At the party congress his contribution to ideology was enshrined in its charter -- the only sitting leader to have his name written in since Mao.
"What Xi is doing is in some respects formalizing what we knew already, that Xi was going to be the most important man in China for as long as he was alive," said Nick Bisley, a professor of international relations at La Trobe University in Melbourne. "More importantly it is saying that China is deviating from the political and institutional path it was on. We are in new territory."
— With assistance by David Tweed, Peter Martin, Keith Zhai, and Dandan Li
Before it's here, it's on the Bloomberg Terminal.
LEARN MORE