Business
Was This Oil Giant Smart or Just Lucky?
Chevron's long-ignored acreage in the Permian Basin has made it a shale leader.
By and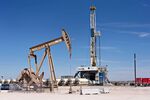 In the control room of Chevron Corp.'s Scharbauer SE71 oil well, midway up a 150-foot rig in the heart of the Permian Basin, Operations Manager Scott Nash gives instructions to a contractor guiding a robotic arm screwing lengths of steel drilling pipe together. The procedure may save less than a minute per connection compared with the traditional way Chevron used to join pipe. And as recently as five years ago, the company wouldn't have considered such a high-tech solution, especially in this arid West Texas landscape, long considered a poor candidate for profitable exploration. But today the Permian is so important to Chevron's fortunes that saving 10 seconds each time drill pipes are linked can translate into millions of dollars in cost savings across Chevron's huge operations there.
For Chevron, which spent the 1990s and early 2000s breaking deep-sea drilling records in the Gulf of Mexico and elsewhere, the shift to the Permian means going toe-to-toe with the fast-moving independent wildcatters, such as Mark Papa and Harold Hamm, who dominated the first chapter of the U.S. shale revolution. Chevron is determined not to let its late start hold it back. "We're neck and neck with the little companies, and we're still in the learning phase," Nash says. "The 800-pound gorilla is in the room."
Chevron, the world's third-largest publicly traded oil producer, is spending $3.3 billion this year in the Permian and an additional $1 billion in other shale basins. Its expansion will further bolster U.S. oil output, which already exceeds 10 million barrels a day, surpassing the record set in 1970. The growth in U.S. oil production from shale is helping vault America into the lofty ranks of the globe's premier producers—Russia and Saudi Arabia—and could derail OPEC's plans to lift crude prices.
Chevron is no newcomer to the Permian. The story of the Scharbauer SE71 well in Midland County, which when completed will extend about 9,000 feet down and then almost two miles sideways, began more than 75 years ago. In 1888, Texas & Pacific Railway Co. went belly-up and bondholders seized some of the lands that the state had granted to the railroad. By the 1920s, drillers were tapping gushers in the region; one of those, Texaco, began snapping up control of former railroad rights-of-way, including, in 1962, the purchase of former railway acreage rights belonging to TXL Oil Corp. When Chevron bought Texaco in 2001, it inherited a treasure trove of untapped Permian riches.

Today, Chevron controls 2.2 million acres of Permian rock, an area the size of Yellowstone National Park. Even better, it pays little or no royalties on 80 percent of its holdings, boosting its profitability. (Typically, explorers must pay landowners 10 percent to 25 percent royalties.)
In stark contrast to Chevron's inherited Permian position, rival Exxon Mobil Corp. paid about $6 billion for drilling rights in the region last year, after making its entrance into shale through the $35 billion purchase of XTO Energy Inc. in 2010. And Royal Dutch Shell Plc spent $1.9 billion in 2012 to build its Permian position.

Straddling West Texas and southeast New Mexico, the Permian Basin resembles tiramisu's layers of cake and cream—except with strata of oil-bearing rock. The region has been drilled for a century using simple vertical wells. But production started to decline from the 1970s, in part because most reserves were encased in rock so dense engineers couldn't figure out how to extract it.
For years, Chevron and nearly everyone else in the industry paid little attention to shale. When the company created an internal team in the 1990s to look at developing shale resources, executives joked that the so-named nonconventional group was in reality the "noncommercial group" because of its lack of success. The joke wore off in the 2000s when wildcatters and independent oil producers began to crack the hard-rock code. Combining hydraulic fracturing (the process of using high-pressure streams of water and sand to separate oil from within rock, popularly known as fracking) with new sideways drilling techniques provided the magic formula needed to unlock shale's riches.

Still, as the Permian boomed from 2010 to 2014, local lore has it that you could tell which land was Chevron's because it was the only area around Midland that was barren of rigs. Now, Chevron is drilling everywhere. A few hundred yards from Scharbauer SE71, the company has two other rigs, for a total of 16 in the region. Late this year, it plans to lift the number to 20.
Bruce Niemeyer, Chevron's corporate vice president of strategic planning, who until recently oversaw the Permian business, says the company wasn't slow; it was smart. "We were ready to let others spend their money and work through those 5,000 ways how not to make a light bulb before the opportunity to make money really presented itself," he says. "The decision to hold the Permian Basin was very deliberate."

Nonetheless, the shale spending spree is a departure from Big Oil's traditional business model. In the past, Chevron would devote the bulk of its investment to multibillion-dollar engineering marvels hundreds of miles offshore that took years to build. All that changed after oil prices crashed in 2014, leading companies to focus on less-expensive projects that delivered cash quickly. "The majors have realized the Permian is the solution to their need to have short-cycle oil," says Daniel Yergin, the oil historian and vice chairman at consultant IHS Markit Ltd.
Chevron is pouring nearly a fifth of its global spending this year into the Permian, aiming to increase production to 650,000 barrels a day by the end of 2022, from about 100,000 barrels daily as recently as 2014. The company also says it's using data-analysis expertise gained at its offshore wells to make horizontal drilling more efficient. "Independents have got bits and pieces of all this," Nash says, pointing to a vast array of data screens. "But we've put it together, faster." One sign of the company's success: In 2014 it took Chevron 27 days to drill a well. Now, longer and more complex wells take just 15 days.
Chevron, which labels the Permian as one of its three anchor projects for 2018, believes it can continue to boost its position in shale despite the increasingly crowded field of energy companies drawn to the sector. Niemeyer, the Chevron executive, says independents like to highlight that they were first, are more nimble, and can do it better. But he prefers the analogy of the Indianapolis 500.
"Nobody recalls who was winning 100 miles into that race," he says. "It's not being fast off the starting line, it's ultimately how you finish." 
BOTTOM LINE -
Chevron's land in the Permian Basin was considered a low-producing backwater while Big Oil explored overseas. Now the property has become a shale bonanza.
Before it's here, it's on the Bloomberg Terminal.
LEARN MORE