U.K. Firms to Stockpile Goods and Parts to Avoid Brexit Delays
By
Manufacturers consider stockpiling to avoid post-Brexit delays

Brexit transition deal this month 'critically important:' BCC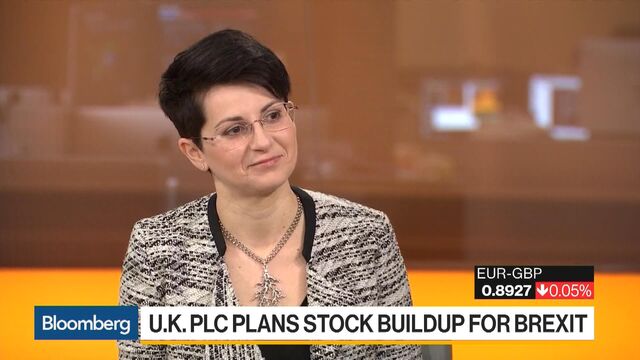 Many U.K. manufacturers are considering whether to build up stocks to ease the risk of Brexit-related trade delays, the head of one of the country's biggest business lobby groups said, after Airbus SE flagged the issue.
Firms are also looking at whether to expand their storage capacity to accommodate for increased stockpiles, to ensure they're able to deliver to the same timescales after Brexit as now, British Chambers of Commerce Director General Adam Marshall said on Wednesday in a phone interview. Airbus last week said it may have to stock up on parts it needs to build wings at its U.K. plants to avoid the risk of delays to deliveries after Britain leaves the EU.

"A lot of large companies that are enmeshed in continental supply chains are considering the question of whether they need to hold more stock," Marshall said. "We've seen it in automotive and aerospace companies, but also in the pharma sector and elsewhere."
The comments show how businesses are having to make adjustments now as the clock ticks down to Britain's scheduled departure from the European Union at the end of March 2019. Marshall said it's "critically important" that British and EU negotiators reach agreement this month on a transition period of about two years during which current trading conditions would be largely unchanged. Without that agreement, investments will be on hold, he said.
Paused Investments
"Investment decisions will be paused, some companies will be activating contingency plans and spending money that they don't necessarily want to spend in order to secure and ensure resilience in their operations," he said. "It could be moving staff, it could be acquiring premises, it could be acquiring licenses, it could be incorporations."
Both the EU and U.K. are trying to reach a deal on the transition phase this month, though EU chief Brexit negotiator Michel Barnier has warned any pact is at risk of unraveling until a full agreement on Britain's departure is approved next year.
Whereas some professional and financial service companies would like more legal clarity on the transition, a political agreement is good enough "for the bulk of our membership," according to Marshall. The BCC represents thousands of companies nationwide, employing more that 5 million people.
"Political agreement is important because there are businesses that will be taking decisions in the next three to six months about the period after March 2019," Marshall said. "We want them to be making positive decisions to invest in the U.K., to continue trading across borders." He said he's working with EU counterparts to help ensure a "common-sense transition."
'Nuts and Bolts'
Marshall said about a third of the BCC's members pay close attention to Brexit because it has a "direct impact" on them; a third "are watching and waiting," but probably won't commit capital until they know the outline of a final deal, with the rest largely "disconnected" because they think Brexit doesn't affect them.
While much of the political debate has focused on semantic issues such as whether Britain stays in "the" or "a" customs union with the EU, or brokers a customs "agreement," companies care about the "content rather than the form," he said.
"It's the real, practical nuts-and-bolts questions about exporting and importing and moving goods across borders," Marshall said. Similarly, firms aren't fretting about whether Britain gets a Canada-style deal or one like Norway, but rather what the implications are to their profits, he said.
Marshall will address the BCC's annual conference in London on Thursday, calling on the government not to let Brexit overshadow action on domestic issues requiring urgent attention, according to excerpts of his speech emailed by the lobby group. Those issues include repairing local roads, improving the capacity of airports and railways, building more houses, clsoing gaps in mobile phone networks and delivering an easy-to-use immigration system.
"There is a real hunger coming from businesses across the U.K. for real leadership and vision," Marshall will say. "Businesses want to see a radical, optimistic vision for the future of the U.K. The reason is simple: they want something to get behind. A national sense of mission."
Quotes from this Article
Before it's here, it's on the Bloomberg Terminal.
LEARN MORE