Trump's North Korea Threats May Be Paying Off
By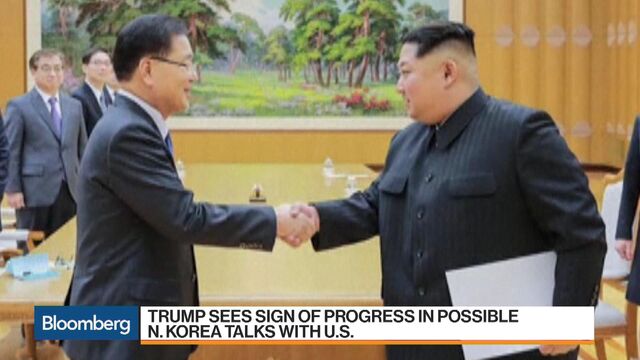 Want to receive this post in your inbox every morning? Sign up for the Balance of Power newsletter, and follow Bloomberg Politics on Twitter and Facebook for more.
President Donald Trump's threats to rain "fire and fury" on North Korea may have helped nudge Kim Jong Un toward the negotiating table, but the hard work is still to come.
Kim's offer to suspend nuclear and missile tests in exchange for talks with the U.S. reflects how Trump's unconventional foreign-policy style might simultaneously heighten the risk of conflict and the potential for breakthroughs, Marc Champion writes.
Few diplomats or analysts believe the latest development will deliver a denuclearized Korean peninsula in exchange for the U.S. security guarantees suggested as a basis for talks. The Kim dynasty has a history of dangling the prospect of a negotiated settlement on its nuclear arsenal, and then walking away after winning concessions.
Still, without Trump's threats, North Korea's supreme leader might not have moved this far.
"It may be we have to give Trump credit," said James Hoare, a British diplomat and historian who opened the U.K.'s first embassy in Pyongyang in 2001. "But if he really has been playing 'crazy' in some clever game, it's an extremely dangerous one with horrific possible consequences for people on the Korean peninsula, Japan and elsewhere in the region."

Global Headlines
A win for hard-liners | Gary Cohn's White House departure is a victory for the protectionists and immigration hawks who have sought to influence the president. Cohn, a former Goldman Sachs chief, said he'd resign as top economic adviser after a bitter and personal dispute over Trump's plan to slap steep tariffs on steel and aluminum imports. His exit has Wall Street fretting about losing friends in the administration.
State of the party | Chinese President Xi Jinping is poised to enact a sweeping government overhaul that would solidify Communist Party control over state agencies and roll back 1980s-era political reforms, Keith Zhai reports. The drive will further entrench the ruling party as Xi prepares to tackle financial risks and rampant pollution at the same time Trump threatens China's trade lifeline.
EU makes its play | European Union President Donald Tusk publishes the bloc's draft negotiating position for discussions with the U.K. over their future relationship today. He's likely to say Prime Minister Theresa May can't have a trade deal as ambitious as she wants — including widespread access to the EU's single market for financial services institutions  — unless she removes some of her red lines, such as following EU customs rules.
Azzurro e giallo | Italy's political map is a lot less colorful than it once was. Whereas parties used to have pockets of support across the peninsula, Sunday's vote resulted in a wave of anti-establishment Five Star yellow south of Rome, and a sea of center-right blue in the north, led by the anti-immigrant League.

Democratic enthusiasm | In an encouraging sign for Democrats looking to win a U.S. House majority in November, turnout surged in the first primary of 2018 in Texas. Early voting data indicates a fired-up party on pace to send a significant number of women to face Republican congressional candidates in a national referendum on Trump's presidency. Democratic turnout was particularly strong in affluent suburban areas, which the party is hoping to target.
Populist strongman | Hungarian Prime Minister Viktor Orban, the self-styled godfather of Europe's populist boom, isn't used to defeats. So he no doubt took note when voters in an agricultural city backed a mayoral opponent for the first time in 20 years. Orban is a month from elections that had been expected to be a formality, and a defeat — or even a narrow win — would reverberate from Moscow to Brussels.
And finally... The producer of the "Wolf of Wall Street" agreed to pay $60 million to the U.S. Justice Department to settle claims it financed the movie with money siphoned from a Malaysian state investment fund. Red Granite Pictures Inc., co-founded by a stepson of Malaysian Prime Minister Najib Razak — who has denied any wrongdoing — also must give up its rights to "Daddy's Home" and "Dumb and Dumber To."

— With assistance by Ian Wishart
Before it's here, it's on the Bloomberg Terminal.
LEARN MORE