Smith & Wesson Owner Stands Ground Against BlackRock Queries
By
Greatest risk to our reputation is political, company says

American Outdoor Brands responds to biggest shareholder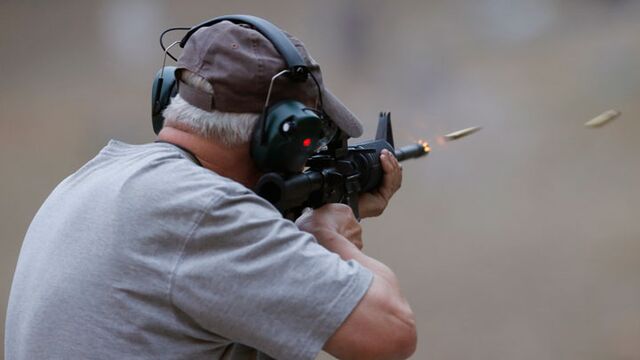 Gunmaker American Outdoor Brands Corp., formerly Smith & Wesson, cautioned its biggest investor Tuesday that one of its greatest business risks was to take political positions unpopular with its pro-Second Amendment customers.
American Outdoor manufactured the firearm that killed 17 people last month at a high school in Parkland, Florida. In the wake of the bloodshed and the opposition it awakened to gun violence, BlackRock Inc., the world's biggest asset manager, had sent questions to gunmakers concerning the companies' work on gun safety and its methods for complying with laws and regulations. BlackRock owns 11 percent of American Outdoor.
"We do not believe that our stockholders associate the criminal use of a firearm with the company that manufactures it,'' American Outdoor said in its response, posted on its website. "We do believe, however, that there would be far greater reputational and financial risk to our company if we were to manufacture and market products containing features that consumers of our products do not desire, or if we were to take political positions with which consumers of our products do not agree.''
"Calls for us to monitor the illegal use of our firearms are misguided," the company said.
Brian Beades, a BlackRock spokesman, said responsible business practices were critical to firearms manufacturers' long-term prospects. "We will continue to engage with these companies to further understand their business policies and practices in order to protect our clients' investments in them," he said.
BlackRock Questions
In the March 6 post, signed by Chairman Barry M. Monheit and Chief Executive Officer James Debney, American Outdoor said that though it respects the current national gun-control debate, "the solution is not to take a politically motivated action that has an adverse impact on our company, our employees, our industry, our shareholders, the economies we support and, significantly, the rights of our law-abiding customers, but results in no increase in public safety."
Springfield, Massachusetts-based American Outdoor manufacturers handguns, modern sporting rifles, shooting targets, holsters, as well as non-firearms products such as tree saws and knives.
Addressing regulation, American Outdoor said it supports "greater enforcement of current laws" as well as the "Fix NICS" campaign, an effort by the National Shooting Sports Foundation to encourage states to submit records to the FBI's National Criminal Instant Background Check System. The company suggested that before new laws, such as expanded background checks, could be passed, the nation should "address the challenges of acute mental illness in our society and the pervasive depiction of violence in movies and video games."
The gunmaker said it's not interested in legally mandated "smart gun" technology, which would allow only an authorized user to fire the weapon, though it said it's "not opposed" to developing such technology.
Shares of American Outdoor have fallen 4 percent since Feb. 14, the day of the massacre. They fell 1.7 percent Wednesday in New York, to $10.46.
Quotes from this Article
Before it's here, it's on the Bloomberg Terminal.
LEARN MORE