EU Signals Mounting Concern Over Trump Tariffs as Cohn Resigns
By and
Dombrovskis says EU will respond to Trump within WTO rules

European Commission vice president comments in TV interview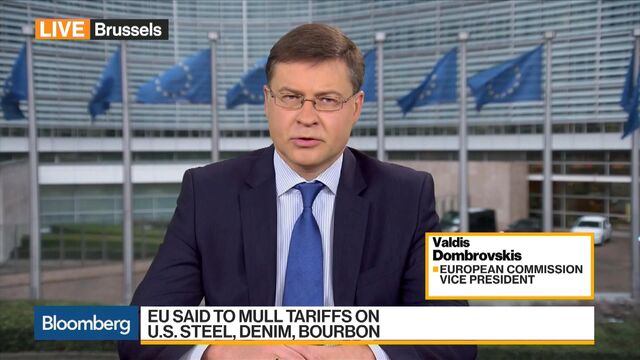 The European Union voiced mounting concern over U.S. President Donald Trump's plan to impose punitive import tariffs, as Germany signaled alarm over the resignation of pro-trade Trump adviser Gary Cohn in an emerging trans-Atlantic dispute over protectionism.
"We hope that eventually this initiative from the U.S. side will not be followed through," European Commission Vice President Valdis Dombrovskis said in a Bloomberg Television interview ahead of a meeting of the European Union's executive arm to discuss a response to the U.S. plans. "But it's also clear that the EU is going to react if these one-sided tariffs are going to be imposed by the U.S."
Germany's outgoing economy minister, Brigitte Zypries, echoed calls for Trump to reconsider his decision, calling the situation "serious" as the government in Berlin seeks to avoid an escalated trade dispute. Cohn's departure bodes ill for trade relations, she signaled.
"Trade promotes prosperity if it's based on exchange, on working together," Zypries said in a statement. "Having support for that in the U.S. administration is very important. To that extent, the current signals from the U.S. fill me with concern."
The Commission says Trump's tariffs would upend the rules, which have underpinned global commerce since the end of World War II. The latest clash follows a series of disputes over topics, including action against climate change and Middle East policy, that have tested the ties between the major western powers.
Trump has signaled he may escalate further by imposing tariffs on imports of European cars, while accusing the EU -- the world's largest trading bloc -- of making it "impossible" for American auto manufacturers to sell their products to the continent. A meeting with Sweden's Prime Minister Stefan Lofven on Tuesday failed to ease the tension.
Hopes that Trump will back down appeared to fade on Tuesday, after Cohn, Trump's top economic adviser, resigned over his disagreement with the president over tariffs. His departure from the White House is a victory for the protectionists and immigration hawks who have sought to push Trump to fully embrace their views.
'Firm, Proportionate'
The EU says its retaliation to Trump's tariffs will be in line with World Trade Organization regulations. The bloc is preparing to unveil a plan for punitive retaliatory levies later on Wednesday, while insisting that it remains a champion of rules-based free trade.
The plans include a 25 percent tit-for-tat levy on dozens of U.S. products, ranging from steel ladders and frying pans to motorcycles, peanut butter and manicure solutions. Targeting 2.8 billion euros ($3.5 billion) of iconic American goods produced in key Republican constituencies, the EU hopes to raise pressure on Trump to ditch his steel and aluminum tariff plans.
"We are assessing what are the options of our action," Dombrovskis said. "We will react in a firm and proportionate way within WTO rules."
— With assistance by Alexander Weber
Before it's here, it's on the Bloomberg Terminal.
LEARN MORE