Estonia Joins Race to Woo Broadcasters Mulling Brexit Move
By
President Kaljulaid to make direct appeal at London event

Estonia joins Ireland, the Netherlands in seeking investment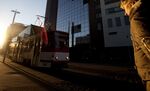 The President of Estonia has a message for international media companies in the U.K. weighing their post-Brexit future: our door is open.
Kersti Kaljulaid is set to visit London this month to encourage the likes of Discovery Communications Inc., Time Warner Inc.'s Turner International and Modern Times Group AB -- who use the U.K. as their European broadcasting hub -- to choose Estonia as their new base.
Estonia joins countries such as Ireland, the Netherlands, Luxembourg and Belgium in vying to lure broadcasters from the U.K., where media companies risk losing the ability to transmit into the EU after Brexit. Akin to global banks, broadcasters use U.K. licenses to access the European Union, an arrangement that British Prime Minister Theresa May has said will end after Brexit.
"There's a genuinely competitive market emerging in jurisdictions," said Ed Hall, co-founder of Expert Media Partners, a consultancy that has advised Estonia and other governments and regulators on broadcasting post-Brexit. "It's clear that when the President wants to talk to broadcasters, it's being taken very seriously."
The Estonian president will be joined by Culture Minister Indrek Saar at the half-day event near London's City Hall, where items on the agenda include how to retain access to the European Single Market and the ease of the Estonian regulatory system, according to an invitation seen by Bloomberg. A spokesman for the Estonian government confirmed the meeting.
For a deeper look on Brexit's impact on London broadcasters, click here
Broadcasters in the U.K. are hoping that May will secure an agreement with the EU for a stand-still transitional period that would maintain the status quo when Britain leaves the bloc in March 2019, to give them time to sort out decisions on relocation.
At stake for the U.K. is about 1 billion pounds ($1.39 billion) of annual investment on content, production facilities, wage costs and technology, according to research by media analysis firm Oliver & Ohlbaum Associates commissioned by the Commercial Broadcasters Association.
While May is also seeking a long-term trade deal that would include keeping the existing open broadcasting relationship, the U.K.'s problem is that the industry is one of the least liberalized sectors. Most countries limit what can be beamed in from overseas on cultural grounds and the EU generally excludes the sector from free-trade agreements.
About 1,200 channels are licensed in the U.K., more than anywhere else in Europe, and about 40 percent of those transmit into the EU, according to the European Audiovisual Observatory. Conversely, only a handful of channels are targeted at the U.K. from the EU.
Ireland's broadcasting authority and inward investment lobby group also met with media companies in London this week, explaining their regulatory approach and how to apply for broadcast licenses.
In a major Brexit speech last week, May said that the U.K.'s broadcasting relationship with the EU would have to change after Brexit and that current arrangements could not continue.
"The relevant directive will not apply to the U.K. as we leave the EU," May said. "We should explore creative options with an open mind, including mutual recognition which would allow for continued transfrontier broadcasting."
— With assistance by Aaron Eglitis
Quotes from this Article
Before it's here, it's on the Bloomberg Terminal.
LEARN MORE