business
Telecom Italia Board Approves National Landline Network Spinoff
By
Carrier to create a separate unit, keep full control of grid

Italy sought to limit Vivendi's influence over phone company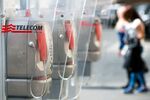 Telecom Italia SpA's board authorized Chief Executive Officer Amos Genish to spin off its fixed-line network to improve rivals' access to an asset that is the focal point of Italian concern about Vivendi SA's influence over the former phone monopoly.
The national network has a book value of about 15 billion euros ($18.6 billion), slightly less than the carrier's current market value. With a stake of almost 24 percent, Vivendi is Telecom Italia's biggest investor. The company will create a separate unit for the network, but continue to fully own the grid, it said in a statement Tuesday.
The spinoff plan will grant competitors "absolute equality" of access to the network, Telecom Italia said.
Vivendi brought in Genish in September effort to gain clout in Italy, where the government has sought to limit the French conglomerate's influence in Telecom Italia, applying so-called golden power rules that affect what changes can be made to the network and other assets. Led by billionaire Vincent Bollore, Vivendi has had a tough time expanding in Italy as it seeks to build a southern European media and telecom champion.
Vivendi's hold on Telecom Italia is being challenged by Paul Singer's Elliott Management Corp., which is building a stake the Italian company. Elliott is considering a push to replace members of the board with "new, fully independent, and highly qualified directors," the New York-based fund said in a statement Tuesday. Elliott said it won't seek control of the carrier.
A separation of Telecom Italia's fixed-line grid will stoke domestic competition by guaranteeing a more level playing field for rivals who want to rent broadband and phone capacity for resale. It would also increase valuation transparency and a provide a significant value release for the carrier, analysts have said.
Genish pitched separating the network to telecommunications regulators in January and then presented the plan to Development Minister Carlo Calenda, whose governing Democratic Party was defeated in elections on March 4.
Telecom Italia also said Tuesday it plans to add more than 5 million new fiber broadband customers by 2020, part of a new three-year new business plan approved by the board. By the end of that period, the carrier targets fourth-generation mobile coverage of 95 percent of Italy's population, from 76 percent currently. It also aims to triple the number of subscribers to internet video on demand service TIMVision, from about 1.3 million now.
Full-year revenue at Telecom Italia rose about 4 percent to 19.8 billion euros, matching analysts' average estimate. Earnings before interest, taxes, depreciation and amortization fell 2.6 percent to 7.79 billion euros.
Before it's here, it's on the Bloomberg Terminal.
LEARN MORE