politics
Sierra Leone to Vote Amid Discontent Over Ebola, Iron Ore
By and
Election on Wednesday marks departure from two-party system

Ebola, iron-ore slump, corruption plagued outgoing government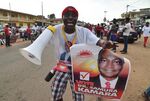 Sierra Leone will hold elections on Wednesday in which an unprecedented number of political parties will compete as discontent over the government's handling of an economy battered by the Ebola outbreak has soared.
The vote marks a departure from a decades-old tradition that mainly divided the balance of power between the All People's Congress and the opposition Sierra Leone People's Party, with a newcomer, the National Grand Coalition, expected to win a significant amount of votes. In total, 16 parties have put candidates forward in the West African nation of about 6.5 million people.
"The election has the potential to seriously disrupt the two-party system that has existed in Sierra Leone since independence" in 1961, said Charlotte King, an analyst with the Economist Intelligence Unit's Middle East and Africa team. "The National Grand Coalition is the real uncertainty going into these polls."
As outgoing President Ernest Bai Koroma has to step down after two terms in office, his party has named Samura Kamara, a former foreign affairs minister who hails from the same northern district as Koroma, as its candidate. Julius Maada Bio, who briefly ruled the country in the 1990s as head of a military junta, will run for the SLPP.
None of the candidates is expected to win the 55 percent majority of the votes required to secure victory in the first round.
Double Shock
"Patience is wearing thin," King said. "The lack of jobs tends to be citizens' primary concern, particularly in urban areas, but poor public service and high prices for basic goods are also pressing issues."
In 2012, Sierra Leone was sub-Saharan Africa's fastest-growing economy as Chinese and U.K.-based investors began developing its iron-ore reserves and that resource overtook diamonds as its main export. But the double shock of a commodity price slump and the worst-ever Ebola epidemic the following year triggered the collapse of the two iron-ore mines in the country and left the economy in ruins.
Economic growth was about 6 percent last year, from a contraction of 20.5 percent in 2015, according to the International Monetary Fund.
While Koroma scored some successes -- he improved electricity supply and implemented free health care for children under five -- his government has been dogged by corruption allegations. Millions of dollars in foreign donations to fight Ebola went missing during the first six months of the outbreak, according to an internal audit. Last year, two Ebola survivors filed a lawsuit at a regional court in Nigeria, accusing the government of misusing funds. Almost 4,000 people, including more than 200 health workers, died of the disease.
Huge Mudslide
There have also been concerns about the management of relief funds for the victims of a huge mudslide last year that killed more than 1,100 people in the capital, Freetown. And this year, the IMF delayed a payment that's part of a five-year credit facility due to the government's "weak budget revenue outlook."
"The key issues that have been dominating peoples' everyday discussions are things around the economy," Jamie Hitchen, an independent analyst, said by phone from Freetown. "There's a lot of unemployment, there's a lot of daily struggles for survival, or at least to have a decent income. It will be a big challenge for whoever wins to address those issues."
(
Updates with analyst comment in third paragraph.
)
Before it's here, it's on the Bloomberg Terminal.
LEARN MORE