OPEC-Shale Dinner Serves Small Talk on Oil, Not Much Else
By
'We have compared notes,' OPEC secretary general says

Second time OPEC and shale producers have met for dinner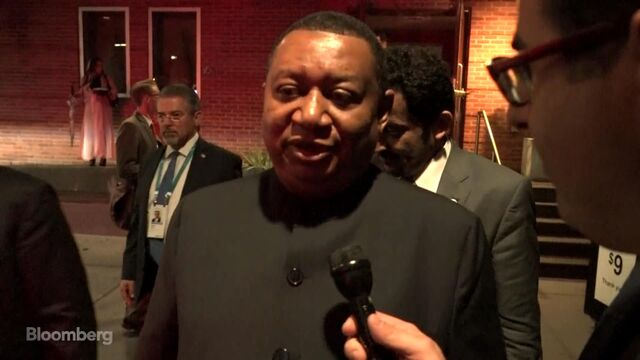 OPEC officials and U.S. shale producers met for second consecutive year for dinner and "compared notes" after a difficult period of low oil prices -- with few signs the two sides are growing more fond of each other.
The meeting, on the sidelines of the annual CERAWeek by IHS Markit conference in Houston, comes as U.S. shale production booms, complicating efforts by the Organization of Petroleum Exporting Countries to rebalance the oil market. 
"We had emerged from a severe cycle and CERAWeek gives us an opportunity to compare notes and experiences," OPEC Secretary General Mohammad Barkindo told Bloomberg after dinner Monday at The Grove restaurant in downtown Houston. 
Barkindo met for the first time with about two dozen shale executives a year ago, opening an unusual direct communication channel between OPEC and its fast-growing rivals. Since the dinner during the 2017 CERAWeek meeting, U.S. production has added more than 1 million barrels a day -- the equivalent of OPEC member Libya -- mostly due to booming shale output.
"It was worthwhile, very educating listening to experiences from various players," Barkindo said. Asked whether OPEC was worried about even further U.S. production growth this year and into 2019, he said: "Not at all, it's a welcome development. Demand is very robust, very strong." 
The International Energy Agency said on Monday the U.S. will dominate global oil markets for years to come, satisfying 80 percent of global demand growth over the next three years. By 2023, total U.S. liquid hydrocarbon output will rise to 17 million barrels a day from 13.2 million last year, the IEA said.
While Barkindo has worked to keep communication between the shale producers and OPEC open, analysts see little room for agreement.
"Because U.S. producers benefit from the OPEC/NOPEC cartel's restraint, there can be no common interest between the two groups," Sandy Fielden, director of oil and products Research at Morningstar Inc., wrote in a note on Tuesday.
OPEC production curbs are generating added revenue and market share for shale explorers, leaving "the cartel playing second fiddle to shale for fear of the economic consequences to its members of lower prices," Fielden said.
The OPEC-shale 2018 dinner was attended by the chief executive officers of some of the largest U.S. independent shale producers, including Vicki Hollub of Occidental Petroleum Corp., John Hess of Hess Corp., Tim Dove of Pioneer Natural Resources Co. and shale pioneer Mark Papa, who now runs Centennial Resource Development Inc.
Cordial Conversation
"It was a very nice, cordial conversation about matters of the day," Dove said after the dinner. 
Papa said going into the meal that he expected nothing more than pleasantries. The next day, he said that's exactly what he got out of it.
"There's absolutely nothing that is any meaningful thing that happens at that dinner," Papa told reporters Tuesday after speaking on a panel at CERAWeek. "We didn't get into any specific discussions on anything at all."
The gathering was also attended by Suhail Al Mazrouei, the United Arab Emirates oil minister who serves this year as OPEC president, and his counterpart from Qatar, Mohammed bin Saleh Al Sada, and Equatorial Guinea's energy minister, Gabriel Obiang.
The ministers appeared resigned to the fact that the talks with their rivals will change little, with some officials hinting the dinner-table conversation was more about pleasantries than energy business.  
"We talked about oil and gas," said Obiang of Equatorial Guinea, the newest OPEC member. "We talked about steak and fish."
— With assistance by Kevin Crowley, Ryan Collins, and David Wethe
Quotes from this Article
Before it's here, it's on the Bloomberg Terminal.
LEARN MORE