technology
There's a Widening Gap Between the Best and Worst Performing Tech Giants
By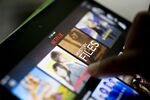 The U.S. tech heavyweights, for months seen as an indestructible monolith that doesn't go anywhere but to the sky, are starting to show some cracks in the foundation.
Case in point: this year's performance of the FAANG group of Facebook Inc., Amazon.com Inc., Apple Inc., Netflix Inc. and Google parent Alphabet Inc.
As a whole, the group is still outperforming the market. But upon closer inspection, there's a performance gap between the index's winners and losers not seen since 2015.
Netflix, the group's biggest gainer, is up 68 percent this year, while Facebook has added only 3 percent. The 65-point range in performance is three times bigger than last year, according to Evercore ISI's Dennis DeBusschere.
This has partly to do with company-specific issues, of course. Facebook's changes in news feed may be leading people to spend less time on the site, while Netflix is enjoying a pick-up in analysts' price targets after posting the strongest ever year of subscriber growth.
But the difference in performance stood at just 23 percentage points last year, even though company-specific issues were present then, too. What's different now is rising inflation, the end of a low volatility regime and expectations of a faster pace of rate hikes. This is what's causing investors to become more selective, according to DeBusschere.
"Last year, investors favored anything that could grow and that was related to the ideas that there would be no inflation, a glacial pace of rate hikes and very little volatility," DeBusschere said. "We are shifting away from that environment, growth is still important, and as the macro backdrop has shifted, the differentiation matters more."

The five tech titans have been Wall Street darlings since the 2016 presidential election. The sentiment stated turning late last year, when Morgan Stanley turned more skeptical on the group, while Citigroup recommended favoring banks over tech companies as one of its key 2018 investment themes. Concern grew wider as hedge funds pared ownership of the FANG group by more than 16 million shares in the fourth quarter.
Shares of Netflix powered through $300 Friday and are up more than 40 percent since the streaming company reported better than expected fourth-quarter subscriber growth. Facebook is on track for the worst start to a year since 2016 amid consistent criticism for failing to keep Russia from meddling in the 2016 U.S. election.
The last time the gap in performance between the FAANG stocks was this wide, in 2015, Amazon soared 119 percent compared with Apple's 4.6 percent decline. Back then, the macroeconomic backdrop was similar to now, insofar as expected inflation rates and market volatility were both on the rise.
Before it's here, it's on the Bloomberg Terminal.
LEARN MORE