politics
Congress Poised to Skip Funding Yucca Nuke Dump Again This Year
By
Trump had asked for $120 million to develop Nevada repository

Appropriations committees seen extending separate loan program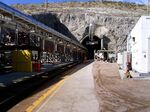 House and Senate appropriators have no plans to fund development of the Yucca Mountain nuclear waste dump in Nevada this year, according to the chairman of the House subcommittee charged with writing the Energy Department's spending plan.
Lawmakers have agreed, however, to continue a separate Obama-era loan program the Trump administration has sought to kill, the chairman, Representative Mike Simpson, said in an interview Tuesday after his appropriations subcommittee finished work on the bill.
The spending measures, to be included in a broad government funding bill, are still subject to change, added Simpson, an Idaho Republican.
President Donald Trump has vowed to revive long-stalled efforts to construct the underground repository for spent nuclear fuel from power plants and requested $120 million to pay for initial work needed for those efforts. But a disagreement between the two chambers over whether additional nuclear waste sites should be constructed before Yucca is built tanked those efforts, Simpson said.
"We're at an impasse," Simpson added. "I think everybody is kinda stuck this year."
Related: Trump Demands Throw Wrench Into Lawmaker Talks on Spending Bill
A Conservative Target
The Energy Department loan program, which has issued $465 million to automaker Tesla Inc. and provided $1.6 billion in loan guarantees for NRG Energy Inc.'s Ivanpah solar plant in Southern California, has been targeted for elimination by the administration for two years in a row. The program has been under fire from conservative critics since it famously backed a half-billion-dollar loan guarantee to failed solar-panel maker Solyndra LLC.
Lawmakers are struggling to negotiate a $1.2 trillion spending bill needed to keep the government open after March 23. It would allocate the money to federal agencies through the remainder of the fiscal year that ends Sept. 30. Congress hopes to complete talks this week so the House can vote on it next week and the Senate can vote the following week.
But none of the 12 parts of the spending legislation has been completed, and disagreements persist on financing a border wall along the U.S.-Mexican border and a rail tunnel project under the Hudson River between New York City and New Jersey, among other things.
— With assistance by Erik Wasson
Before it's here, it's on the Bloomberg Terminal.
LEARN MORE