business
China to Ease Bad-Loan Provision Rules to Support Growth
Bloomberg News
CBRC lowers coverage ratio to a minimum 120 percent: people

Move is expected to encourage more lending by Chinese banks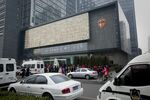 China is relaxing rules governing how much banks must set aside to cover bad loans, people with knowledge of the matter said, a sign that regulators are comfortable the nation's lenders are sound enough to extend additional credit and support the economy. 
The China Banking Regulatory Commission has issued a notice lowering the bad-loan coverage ratio to a minimum 120 percent from the previous 150 percent, the people said, asking not to be identified as the matter isn't public.
Relaxed bad-loan coverage rules will allow banks to extend more credit, supporting an economy the government expects to expand about 6.5 percent this year, a slower pace than in 2017. Additional lending from giants such as Industrial & Commercial Bank of China Ltd. would also counter some of the effects on the economy of President Xi Jinping's campaign to curb financial risk, one of the government's top priorities.
The changes also indicate regulators are confident that they've come to grips with a bad-loan epidemic that plagued lenders over the past few years. In 2016, when problem loans at Chinese banks were on the rise, the CBRC resisted lobbying from the nation's lenders to relax the provisioning thresholds.
The timing of the CBRC move suggests that "nonperforming loans are not a problem," analysts at Shenwan Hongyuan Group Co. said in a research note.
According to the notice, the CBRC will differentiate the amount of provisions an individual bank must hold within the new band of 120 percent to 150 percent, based on the level of its capital, the accuracy of its loan classification policies and its proactiveness in handling nonperforming loans, the people said.
Ample Leeway
China's banking industry has a bad loan coverage ratio above 180 percent, CBRC official Xiao Yuanqi said at a briefing last week, indicating banks have plenty of room to reduce provisions.
As well as lowering the threshold, the CBRC notice said it will reduce the amount of provisions banks must hold against their total loan book, including healthy loans, to as low as 1.5 percent from the previous 2.5 percent minimum.
The CBRC didn't immediately respond to a fax seeking comment. Caixin reported on the CBRC's move earlier Tuesday.
— With assistance by Alfred Liu, Jun Luo, Steven Yang, and Dingmin Zhang
Before it's here, it's on the Bloomberg Terminal.
LEARN MORE