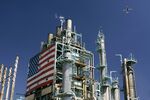 "The Americans are coming" could have been the subtitle of the International Energy Agency's latest outlook for oil markets.
Unveiling it at CERAWeek, an annual industry get-together in Houston organized by IHS Markit, IEA chief Fatih Birol posited on Monday that oil-supply growth from outside of OPEC would drive the market for at least the next three years -- with one country in particular looking, er, dominant:
The United States will put its stamp on global oil-market developments in the next five years.
A less-obvious tag line is: "The refineries are coming."
The IEA's headline projection for oil-demand growth is an extra 6.9 million barrels a day by 2023. But that obscures a shift in the type of oil being demanded.
Demand for refined products such as gasoline -- whereby refineries turn crude oil into a useful fuel or feedstock -- is projected to rise by just 4.8 million barrels a day. Much of the gap is taken up by a growing share of natural gas liquids, due largely to a surge in supply from the North American shale boom:
For oil producers -- especially OPEC members looking at the expected wave of U.S. supply -- that projected growth in underlying crude-oil demand is very unwelcome. The projected average growth of about 800,000 barrels a day per year through 2023 is 25 percent lower than for the previous six years:
It's also a potential problem for refiners, however -- some of them, anyway.
That's because the other wave projected in the IEA's report is in refining capacity, and mostly outside the U.S. Almost a third of the extra 7 million barrels a day of the extra refining capacity expected to come online by 2023 will be in the Middle East. Another half will be in China and the rest of emerging Asia:
This makes sense. China, India and the rest of Asia are home to virtually all the anticipated growth in global oil demand. Meanwhile, the emergence of a competitive energy market is pushing major producers, such as Saudi Arabia, to invest more in value-adding refining and petrochemical facilities closer to the customer.
But it also creates a potential overhang for refiners. Comparing the seven million barrels a day of new capacity to the IEA's figure of 4.8 million barrels a day of extra demand implies a dismal incremental utilization figure of less than 70 percent (to put that in perspective, U.S. refineries run at about 90 percent, on average).
Kristine Petrosyan of the IEA says that between 2012 and 2017, roughly four million barrels a day of capacity was added worldwide. That's a net figure, however; about 7.5 million barrels a day of gross capacity was added, offset by shutdowns of a few million barrels a day.
The implication is that, if the new capacity materializes over the next half a decade or so, then margins must be squeezed to the point that another few million barrels a day get taken out.
That's unlikely to happen in Asia. Rather, it is Europe's refineries, tied to a declining domestic market and unbalanced in terms of their product mix (especially in gasoline), that look vulnerable. That will be especially so if Latin American refining stages a recovery and new West African capacity opens as planned.
U.S. refiners, meanwhile, are sitting relatively pretty, especially on the Gulf Coast. They have access to both surging light-tight oil production, which will be in demand as low-sulfur requirements tighten in shipping at the end of the decade, as well as captive (and cheaper) Canadian heavy barrels. They also enjoy low energy costs courtesy of shale gas.
Looks like the Americans are a force to be reckoned with on that front too.
Before it's here, it's on the Bloomberg Terminal.
LEARN MORE