Mexican Front-Runner Wants Public's View on Oil Law, Ally Says
By
Front-runner's Veracruz candidate Garcia speaks in interview

Energy adviser Nahle seeks senate seat before joining ministry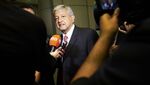 Mexico's leftist front-runner Andres Manuel Lopez Obrador intends to seek a public consultation on the nation's landmark energy reform, raising the possibility that the opening of the oil industry could be overturned, according to his Veracruz gubernatorial candidate.
To get there, Lopez Obrador must first win election July 1 and then push through an amendment to the constitution to allow public consultations on matters concerning government revenue, Cuitlahuac Garcia, said in a telephone interview. The outcome of the consultations would then dictate the government's next steps.
AMLO, as the presidential candidate is known, has sent mixed signals about his plans for the nation's landmark energy reform, which opened the sector to private drilling. His top business adviser, Alfonso Romo, has said AMLO found most of the oil tenders awarded to private drillers will benefit Mexico. But the candidate himself has said he won't permit oil to return to the hands of foreigners.
Who's ahead in Mexico's election? For Bloomberg Poll Tracker, click here.
Rocio Nahle, Lopez Obrador's pick for energy minister, told Bloomberg News that while she believes the energy reform is a topic that the public should have been consulted on by President Enrique Pena Nieto, she's not looking to change the public consultation law.
Nahle has said she'd halt new auctions at least until positive results are seen from the first tenders, according to The Wall Street Journal. The total value of contracts awarded is as high as $153 billion in long-term investment, according to the Energy Ministry's best-case scenario.
Nahle told Bloomberg she's seeking a Senate seat in Veracruz, so that she can help coordinate lawmakers' energy policy, before she then takes her post as minister. Senators chosen in July's election begin their terms in September, while the new president and cabinet only take their posts in December.
"I'm going to the senate to establish the energy policy that will be carried out, and afterward, three months later, I'll be in the Energy Ministry," Nahle said in an e-mailed response to questions.
Before it's here, it's on the Bloomberg Terminal.
LEARN MORE