markets
Trump's Tariffs: All the Latest Developments
By , , and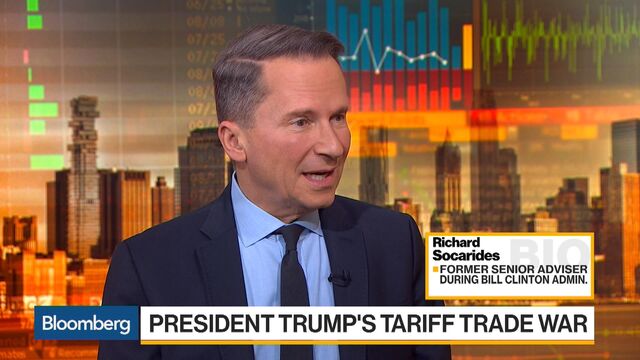 U.S. President Donald Trump is sticking to his push to impose across-the-board tariffs on steel and aluminum imports even as opposition comes from all corners of the globe, as well as a raft of corporate heavyweights such as Ford Motor Co. "Our friends and enemies have taken advantage of the U.S. for many years," Trump said in Twitter post on Sunday. "Our Steel and Aluminum industries are dead. Sorry, it's time for a change!"
We're following developments here. The time-stamps are for New York.
Trump Tariff May Cause Dumping in Middle East (1:15 p.m.)
One of the top concerns among mills around the world is that should less steel get admitted into the U.S. after any new tariffs come into force, it'll end up in their neighborhood instead. In the Middle East, Emirates Steel Co. Chief Executive Officer Saeed Ghumran Al Remeithi highlighted that risk on Monday, telling reporters in Abu Dhabi that the impact of the new curbs might be felt "as a result of metals being dumped back in the market."
Curbs Likely 'Double-Edged Sword,' Says OCBC (1:23 a.m.)
Trump's drive to enforce change may prove to be a double-edged sword, according to Oversea-Chinese Banking Corp., one of the biggest banks in Singapore -- a nation that sits on one of the world's key maritime trade routes and is especially keyed to prospects for flows."Any retaliatory efforts by U.S. trading partners could potentially counteract Trump's effort to protect U.S. trade interests and eventually drag both U.S. and global growth," it said.
Don't Forget, Metals May Be Followed by IP (10:01 p.m.)
While steel and aluminum are front and center at the moment, there's plenty of scope for additional action on trade from the White House, according to Stephen Innes, head of Asia-Pacific trading at Oanda Corp. in Singapore. The push on metals may be only the early stages, with "far more critical decisions" coming up on China's alleged abuse of intellectual property under section 301, Innes said in a note. That refers to a probe by Trump's top trade negotiator, Robert Lighthizer. "Life in the markets could get incredibly messy," Innes says.
Trump Risks 'a Lot of Collateral Damage' (6:15 p.m.)
Trump's wrong when he says trade wars aren't a concern, especially when allies are targeted too, according to Richard Socarides, group head of public affairs at Gerson Lehrman Group, and a former senior adviser to President Bill Clinton. "It's really uncharted territory,"  Socarides told Betty Liu and and Yvonne Man on Bloomberg TV. "I think the opposite of being easy to win, I think it's going to be very unpredictable, and could be very dangerous and there could be a lot of collateral damage." Still, the president may yet rethink his approach, Socarides said. "He can announce something one day, and several days later, after he experiences the reaction, he can change his mind."
— With assistance by Yvonne Man, and Claudia Carpenter
Before it's here, it's on the Bloomberg Terminal.
LEARN MORE