markets
Five Things You Need to Know to Start Your Day
Get caught up.
By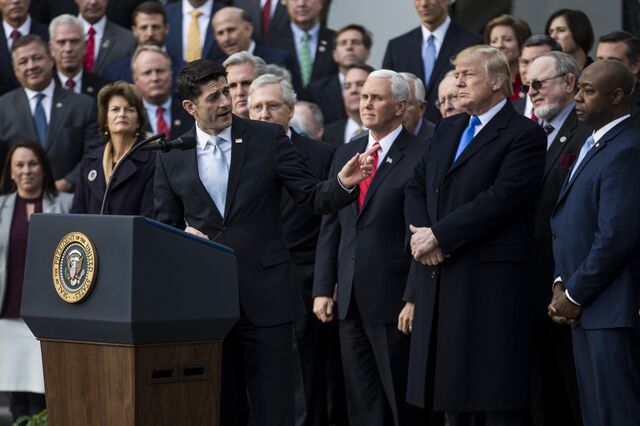 Want to receive this post in your inbox every morning? Sign up here
Trump stands firm on plans for steel and aluminum duties, but Wall Street likes what it hears from Congress as legislators urge the president to reconsider. Here are some of the things people in markets are talking about.
More Back-and-Forth on Tariffs
President Donald Trump declared that he won't retreat from his plan to impose tariffs on steel and aluminum imports after House Speaker Paul Ryan rejected the plan, saying the U.S. economy could suffer. House Republicans tasked with tax and trade policy are drafting a letter addressed to Trump expressing concerns about the prospect of the trade restrictions. Trump's tariffs risk further distancing the U.S. from Asia, after the president withdrew from the Trans-Pacific Partnership pact last year.  Ray Dalio, who runs the world's largest hedge fund at Bridgewater Associates, said the impact of tariffs proposed by President Donald Trump "will be very small" on trade between the U.S. and China. "I believe that what is happening now is more for political show than for real threatening," Dalio said in a post on his LinkedIn page Monday.
Markets Hedge Tariff Angst
U.S. stocks rose and Treasuries fell as investors speculated that President Donald Trump's tough tariff talk won't translate into the most severe protectionist policies, cheered by the comments from Ryan and Dalio. Ten-year Treasury yields advanced, while the greenback rose against most peers. West Texas crude climbed past $62 a barrel. In Europe, the region's equities halted a four-day slide after a major breakthrough on the path to a German government. Italy's stocks and bonds were the standout losers as anti-establishment political groups surged in Sunday's election.
Bezos Playing to Win in India
Having forfeited China to Alibaba and JD.com, Jeff Bezos is determined to win in India, a market of 1.3 billion people who at long last are discovering the pleasures of shopping. Amazon.com Inc.'s chief has committed $5.5 billion to India and selected Amit Agarwal to spend it wisely. A trusted lieutenant who grew up in Mumbai and admires his boss and Bollywood star Amitabh Bachchan with near-equal fervor, Agarwal, 44, is furiously adapting Amazon to local conditions.
China's Shadow Banks
Chinese shadow lenders account for about 15 percent of the world's riskier non-bank loans, according to a regulator's report. The Chinese companies accounted for $7 trillion of $45.2 trillion in global shadow-banking assets tied to the supply of credit that could pose systemic risks, the Financial Stability Board said in a report on Monday. China and Luxembourg provided data for the measurement for the first time. Global regulators are bolstering oversight of shadow banking after the 2008 credit crisis, when the activities of businesses outside the traditional banking system allowed borrowings and excessive risk-taking to build up. This went largely unchecked by authorities, threatening the stability of the entire financial system. 
Coming Up…
Asia's traders will be hoping that the RBA meeting Tuesday ends up being a match for the tone across the region. Governor Lowe will likely deliver a guardedly upbeat view of why the central bank is holding interest rates at a record low in a major release that will then pass without any whiff of excitement or volatility.  Elsewhere on the data front, Asia features South Korean trade and CPI figures, while Australia has balance of payment and retail sales figures on tap. Europe's day brings Hungarian, South African and Swiss GDP figures. The U.S. will report factory and durable goods orders.
What we've been reading
This is what caught our eye over the last 24 hours.
— With assistance by Garfield Clinton Reynolds, Anna Edgerton, and Randall Jensen
Before it's here, it's on the Bloomberg Terminal.
LEARN MORE