technology
Elliott Builds Telecom Italia Stake to Take on Vivendi
By , , and
Paul Singer's hedge fund may nominate directors to board

Vivendi's stake in Telecom Italia is under scrutiny in Italy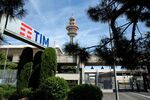 Paul Singer's Elliott Management Corp. is taking on French media conglomerate Vivendi SA by building a stake in Italian phone carrier Telecom Italia SpA.
Elliott is considering a push to replace members of the board with "new, fully independent, and highly qualified directors," to improve Telecom Italia's governance, valuation, strategic direction and relationships with Italian authorities, the New York-based fund said in a statement. While Elliott could further increase its stake, it's not looking -- and will not seek -- control of Telecom Italia, Elliott said.
The activist hedge fund is concerned about Telecom Italia's share slump and business performance since Vivendi took control of the board in 2016, according to people familiar with the matter, who asked not to be identified because the details aren't public. Elliott has contacted several Italian investors to get involved, one of the people said. Bloomberg first reported Elliott's interest in Telecom Italia on Monday.
Telecom Italia's annual meeting, where Elliott could table its own nominees for the board, is scheduled for April 24. Any shareholder that owns at least 0.5 percent of shares with voting rights can propose its own slate of directors, according to Telecom Italia's bylaws. The deadline is 30 days prior to the meeting.
Representatives for Milan-based Telecom Italia and Vivendi declined to comment.
Political Scrutiny
Vivendi, which has a 24 percent stake in Telecom Italia, has been under political and regulatory scrutiny. In September, Italy's market regulator determined that Vivendi has de facto control over the former phone monopoly, escalating a legal fight. The Paris-based media company, led by billionaire Vincent Bollore, also received a reprimand from the watchdog for buying a stake in Mediaset SpA, the broadcaster founded by former Prime Minister Silvio Berlusconi, as the sides feuded over a pay-TV deal gone bad.
"Silvio Berlusconi could be relieved seeing that Elliott is intervening against Bollore," Francesco Galietti, head of the Rome-based political consultancy firm Policy Sonar, said in an interview. "But let us be fair: Berlusconi's most powerful insurance has always been his political clout. What is left of it after the March 4 elections, where Berlusconi emerged as a big loser?"
For more on media industry drama in Italy, click here
Telecom Italia's board on Tuesday authorized Chief Executive Officer Amos Genish to spin off its fixed-line network to improve rivals' access to an asset at the center of Italian concern about Vivendi's influence over the carrier. The company will create a separate unit for the network, but continue to fully own the grid, it said in a statement. A separation would increase valuation transparency and a provide a significant value release for the carrier, analysts have said.
Elliott's move casts doubt on the future of Genish, a former Vivendi executive installed last year. Vivendi replaced the former CEO Flavio Cattaneo, who cut costs and increased revenue but dented staff morale and clashed with executives at the French media giant.
The fund's stake in shares doesn't currently exceed the threshold for mandatory disclosure under Italian law, according to it statement. The disclosure follows months of analysis in recent months of the carrier and its strategic alternatives, Elliott said.
Telecom Italia shares have lost almost 29 percent of their value in the past two years through Monday, giving the company a market capitalization of about 14.9 billion euros ($18.3 billion). The shares rose 6 percent at the close in Milan.
Telecom Italia also said Tuesday it plans to add more than 5 million new fiber broadband customers by 2020, part of a new three-year new business plan approved by the board. Full-year revenue rose about 4 percent to 19.8 billion euros, matching analysts' average estimate.
Investor Activism in Europe
Europe has become an increasingly attractive market for activist investors. Elliott has recently taken positions in medical equipment manufacturer Smith & Nephew Plc, food service equipment manufacturer GEA Group AG, as well as takeover targets NXP Semiconductors NV and Stada Arzneimittel AG.
Other activists have also looked at undervalued companies in the region. Corvex Management, the activist fund run by Keith Meister, and its partner took a stake in Switzerland's Clariant AG last year and successfully fought to block its proposed takeover of Huntsman Corp. Dan Loeb's Third Point has also taken a stake in Nestle SA and has been agitating for the company to improve shareholder value, including advocating for the company to spin off its stake in L'Oreal SA.
Last year, Elliott agreed to provide 303 million euros of financing to Berlusconi's investment company to conclude a 740 million-euro sale of his soccer team AC Milan, Italy's most successful club at the international level, to a little known Chinese investor after an eight-month delay.
The New York-based fund run by billionaire Singer has become one of the busiest activist investors, pushing for changes in at least 25 companies. With about $34 billion in assets under management, Elliott is probably best known for a battle with Argentina's government over that nation's 2001 bond default.
— With assistance by Alexandre Boksenbaum-Granier, Aaron Kirchfeld, and Chiara Vasarri
(
Updates with board approving network spinoff plan in 8th paragraph.
)
Before it's here, it's on the Bloomberg Terminal.
LEARN MORE