business
ECB Now Expected to Delay Changes to its Guidance on Future Policy
By , , and
Economists adjust outlook for first benchmark-rate increase

Guindos seen taking slightly dovish stance as vice president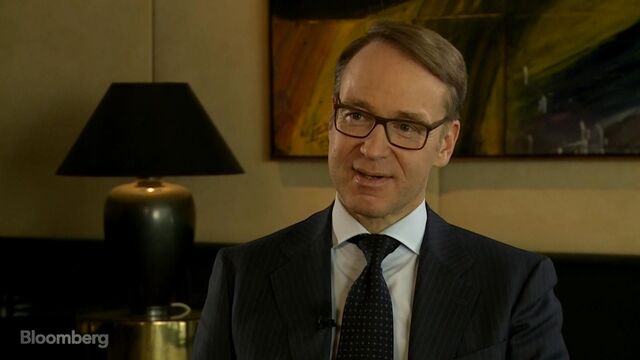 Economists no longer predict the  European Central Bank will change its guidance on future policy at the Governing Council's March 8 meeting.
Instead, the analysts surveyed regularly by Bloomberg forecast policy makers to pare back their pledge on asset purchases by June, and to set an end date for the stimulus program by July. Tweaks to the guidance on interest rates, which currently foresees no change until "well past" the end of bond buying, are only expected by September.
The more cautious outlook anticipated from President Mario Draghi reflects his insistence that the ECB must be patient and persistent in supporting the 19-nation economy or risk jeopardizing the long-awaited pickup in inflation. That jars with the lobbying started by some Governing Council members for the exit to begin, asking -- to no avail at their January meeting -- that an option to extend asset purchases be abandoned.
"Some council members seem very concerned that small changes in the ECB's communication might provoke overly strong market reactions," said Kristian Toedtmann, an economist at DekaBank in Frankfurt. "Therefore, the ECB should reduce its forward guidance on asset purchases only to the extent that it is able to strengthen its guidance on policy rates."
For more on how the ECB could tweak its guidance, click here
The euro-area economy is undergoing its broadest expansion in a decade. Yet inflation pressures remain feeble, with the headline rate falling last month to the lowest since 2016 and producer-price growth slowing more than forecast in January, and recent surveys suggest the economy may be about to shift down a gear. 
Usual Script
For economists, who previously predicted the ECB to move further along the path toward exiting quantitative easing in March, the upshot is that the central bank may take more time in communicating a wind-down of monetary support. An equity rout in February heralds a return of volatility but doesn't warrant a change of plans by the central bank for now, they said.
"The ECB will abide by the usual script whereas any market volatility will influence the policy path only insofar as it influences macro and monetary conditions," said Gianluca Sanna, senior economist at Banca Monte dei Paschi di Siena SpA in Milan.
Net asset purchases are seen continuing at their current pace of 30 billion euros ($37 billion) per month, as planned, respondents said, before being tapered to zero by the end of the year. Proceeds from maturing debt will be reinvested for two years after that, according to the survey.
In a sign of how ECB communication can affect expectations, economists have brought their estimates for the first increase in the main refinancing rate -- currently set at zero -- to the second quarter of 2019, one quarter earlier than in the January survey. The change follows comments by Draghi and Bundesbank President Jens Weidmann signaling that a rate hike in the middle of next year may be in line with forward guidance.
The probable arrival of Spain's Luis de Guindos as the bank's new vice president is unlikely to significantly sway the balance on the Governing Council, when he replaces Vitor Constancio in June. Despite his record of clamping down on fiscal exuberance as government minister, economists expect him to take a cautiously dovish stance at the ECB.
"We have not heard enough from Guindos to accurately classify him as either clearly hawkish or dovish, but he may be slightly on the dovish side of the scale," said Elwin de Groot and Bas van Geffen at Rabobank in Utrecht, Netherlands. "In any case, based on our current information, we would argue that he will not be as dovish as Constancio."
(
Updates with PPI data in fifth paragraph.
)
Before it's here, it's on the Bloomberg Terminal.
LEARN MORE