business
RBS CFO Says Job Cuts 'Inevitable' in Digital Transformation
By and
Executive says many mid-cap companies underprepared for Brexit

Digitization will create a better bank by 2020, CFO says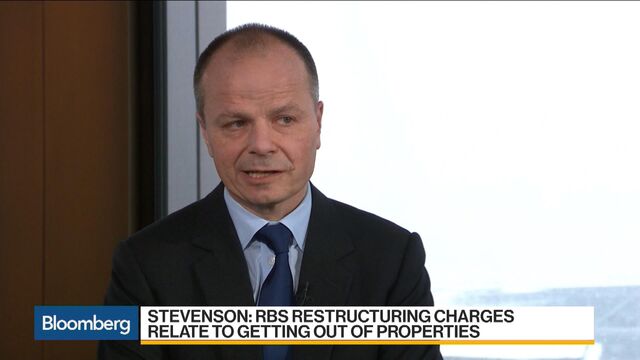 Royal Bank of Scotland Group Plc Chief Financial Officer Ewen Stevenson signaled further job cuts as Britain's biggest government-owned lender accelerates its investment in technology.
"The bank is moving into a different phase," Stevenson, 51, said in an interview with Bloomberg Television in London. The transformation "creates a better bank in 2020, a better bank equipped for digitization," he said.
Stevenson said restructuring costs of 2.5 billion pounds ($3.45 billion) announced last week, are in part related to the disposal of properties and "data centers," which are a legacy of the past. Stevenson didn't give a target for potential job reductions at the company, which shut 259 branches in December as customers increasingly access their accounts online.
"It's inevitable that there will be further job cuts, but we are not going to talk publicly about figures," he said. Full-time employment at the bank fell by 8.5 percent last year to 71,200 people, according to the lender's annual report.
The Edinburgh-based lender last week reported its first full-year profit in a decade, and it's trying to reach a settlement with the U.S. Department of Justice over a mortgage-securities probe before it can restore dividends.
The fortunes of the bank are tied to the strength of the British economy, where it earns almost all of its revenue. One of the headwinds for the U.K. is uncertainty over Brexit, which Stevenson warned that many mid-size companies aren't fully prepared for.
"We are very focused on what Brexit means for the underlying economic growth in the country," he said. "Anything that will impact GDP will impact us."
The bank's management has been under the spotlight after U.K. lawmakers recently published a regulator's report detailing past misconduct at RBS's small-business lending unit. Stevenson said that the bank is "comfortable" with the provisions of about 400 million pounds it took in 2016 to address any damage to customers.
Before it's here, it's on the Bloomberg Terminal.
LEARN MORE