Business
KFC's Big Screw-Up Left Restaurants Without Chicken
This is what a supply chain breakdown looks like.
By and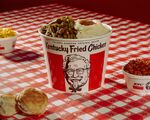 Ruari Lee didn't care about supply chains, distribution centers, logistics, or any of the finer points of the globalized economy. All he wanted was his regular chicken fillet burger meal at KFC. But the restaurant operator's shop in Kendal, a town in northern England, had been closed four days that week in mid-February, like many of the other U.K. restaurants belonging to the chain formerly known as Kentucky Fried Chicken. The reason for the shutdown: There was no chicken.
"It's ridiculous," says Lee, who dropped by the reopened store on Feb. 23 after work. It's also a telling sign of the need for reliable supply chains, the often overlooked systems that can make—or break—a business's ability to operate smoothly.
In a global economy where fewer and fewer goods are made near where they're sold, managing the movement of those goods from manufacturers to shops and customers has become more essential—and risky—to any business. That's the case not only for major manufacturers (Airbus SE shuttles airplane parts between 14 plants across a half-dozen countries) but also for the restaurant chain that serves up a 14-piece "bargain bucket" of Original Recipe chicken with fries for £16.99 ($24) to hungry patrons in England.
When things go right, companies can manage with less inventory on hand, reducing costs. "Everyone's trying to save money in logistics," says Malory Davies, editor of Logistics Manager magazine. "Everyone's trying to become more efficient." When the supply chain goes awry, bottlenecks may develop that not only make a business operate less efficiently but can also wreak havoc on products that are particularly time-sensitive. That's what happened at KFC, which pared back its logistics network to cut expenses and ended up leaving about two-thirds of its 900 outlets across the U.K. without chicken for several days.
KFC, which says 3 percent of its U.K. restaurants remain closed, on Feb. 28 was also hit by a gravy shortage. "Since we deliver hundreds of items, including fresh and temperature-controlled, to our 900 restaurants, it brings an incredible amount of complexity to the process," says a spokesman.
The epicenter of the so-called #KFCCrisis was in Rugby in central England at a KFC distribution center, which suffered a breakdown in its first week as the hub of the chain's new cost-cutting strategy. Before getting anywhere near Colonel Sanders's 11 herbs and spices, tons of chicken spoiled there or in the backs of trucks that idled for hours as drivers awaited instructions that never came. Yum! Brands Inc., the U.S.-based fast-food giant that owns KFC, is now tallying millions of dollars in lost sales.

In February prior to the shutdown, KFC dropped its longtime food-delivery partner, Bidvest, and switched to a pair of German outfits, DHL and QSL. In announcing the deal, they'd promised "a new benchmark" in food supply, consolidating from five regional distribution sites to just the one in Rugby. Changing long-standing supply practices can be risky. That's especially true with chicken. KFC delivers fresh meat to its stores to be breaded and fried on-site. Because chicken is prone to contamination from campylobacter and salmonella, it's subject to strict regulations on the conditions of transport, which must be done in refrigerated trucks. Many other fast-food chains, including McDonald's and Taco Bell, use frozen chicken, which is easier to handle.
KFC's U.K. restaurants get most of their chicken from two huge suppliers. One of them, 2 Sisters Food Group, is owned by Ranjit Singh Boparan, an entrepreneur known as the Chicken King. The company produces one-third of the poultry products eaten in the U.K., according to its website, processing 6 million birds a week. The other, Moy Park, is based in Northern Ireland and has processing plants across the U.K. It works with more than 800 poultry farms, including independents.
From those suppliers, the meat is sent via truck to the distribution center, and that's where things went awry. DHL, a division of Germany's Deutsche Post AG that's better known for delivering parcels to online shoppers' front doors, provides trucks and warehousing, while QSL is responsible for stock management, using an information system it says is state-of-the-art for the food-delivery sector.
Under the previous deal with Bidvest, part of South Africa's Bid Corp., chicken was sent from the regional distribution sites to KFC stores. With the new system, all meat is dispatched from the Rugby hub to satellite depots, then moved to smaller vehicles for the last leg of the journey, says Mick Rix, national officer at the GMB trade union, whose members were among 255 employees who lost jobs when one of the old distribution sites was shut.
That's a tried-and-true model for delivery of auto parts or express parcels. "But chicken and car parts are not the same," Rix says. "DHL's model is completely different to that of the specialist food-distribution companies who do nothing but temperature-controlled deliveries." DHL and QSL didn't respond to requests for comment.
KFC initially downplayed the chicken shortage as a result of "a couple of teething problems" in the new supply setup. By the end of the first week of the snafu, with dozens of stores still shut, the chain changed its tune, taking out full-page newspaper ads to apologize and sending lighthearted tweets that rearranged the chain's brand letters to FCK.
KFC needs to reassure consumers fast for a simple reason: They have plenty of other options. Says longtime patron Lee, munching on a chicken burger in Kendal: "There's always a McDonald's down the road." —With Leslie Patton and Richard Weiss
BOTTOM LINE -
About two-thirds of the 900 KFC restaurants in the U.K. were left without chicken because of botched changes to the restaurant chain's distribution system.
Before it's here, it's on the Bloomberg Terminal.
LEARN MORE